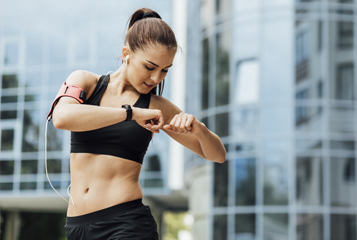 Organized by the Health Information Resource Center (HIRC), a national clearing house for consumer health information professionals, National Women's Health & Fitness Day is observed on the last Wednesday in September. The year, the event takes place on September 30. One of the largest events for women's health of all ages, this annual observance is a nation-wide effort to focus attention on the importance of regular exercise and health awareness for women. This public/private good health partnership has a "sister" event, National Senior Health and Fitness Day, which takes place in May.
Women have different health needs from men, mainly due to biological differences. Many women spend a lot of time and energy balancing work, family and other commitments, and often don't pay attention their own health. National Women's Health & Fitness Day focuses on drawing attention to women's wellness and encouraging them to get back on track by motivating them to take control of their health through diet, exercise, and regular doctor visits.
Here are 5 goals to set on National Women's Health & Fitness Day:
Regular exercise: It's very important that you work out regularly to stay fit and keep illness at bay. Heart disease is one of the leading preventable causes of death among women. Regular exercise can keep your heart healthy. Make sure that you get at least 30 minutes of exercise every day. Walking, jogging, cycling, and dancing are great options. If social distancing is a barrier to outdoor exercise, try the following strategies that the CDC recommends to stay active at home:

Engage in a game that gets your family up and moving.
Do household chores that involve physically activity, such as cleaning out cupboards and vacuuming.
Mow the lawn, take a walk or go on a bike ride while maintaining a safe distance from other people who are outdoors.
Get physically active as you watch television – do push-ups or move around during breaks.

Eat healthy: Make the right food choices based on your dietary needs. To support your physical efforts with the nourishment your body needs, eat healthy. Maintain a balanced diet that provides you with all the nutrients you need. This will help you stay energized, feel fantastic and also help to shed pounds, if that's your goal.
Never skip your breakfast as it provides you energy for the rest of the day and also kick starts your metabolism. Stick to natural foods as far as possible – eat lots of fresh vegetables, fruits, whole grains, meat, fish, poultry, low-fat dairy products, and lots of nuts. Also, women need lots of calcium – depending on your age, you need between 800 and 1,500 milligrams of calcium daily – to help avoid osteoporosis and to build healthy bones and keep them strong as you age. Dairy products, grains, leafy green vegetables, tofu, and cabbage are good sources of calcium. Consider a vitamin or mineral supplement if it is needed or helpful — your doctor can advise you about this.
Stay hydrated: Staying hydrated is important for physical performance and cognitive function. It keeps yourself fit inside out.
Manage stress: Women also deal with a lot of pressure and stress, which is an inevitable part of life. But not managing your stress can lead to physical and emotional ailments. So, commit to something relaxing every day – it could be catching up on a hobby or simply taking a nap.
Never skip health screenings: It's very important to keep your appointments for health screenings and yearly physicals, as many diseases can be effectively treated when caught early.
National Women's Health & Fitness Day is an opportunity for women to make, revamp, or revitalize their commitment to live healthier lives. Organizations conduct various events and activities such as walking events, health screenings and workshops, and exercise demonstrations for women. The programs are meant to encourage women to take control of their health: to learn the facts they need to make smart health choices, time for regular physical activity and preventative care. Last year, approximately 100,000 women of all ages gather at local health and fitness events, across the country, in large and small groups, to encourage each other to begin or continue a healthy journey. This year, to make sure women don't miss out on these events due to Coivd-19 pandemic, various organizations are conducting them virtually.