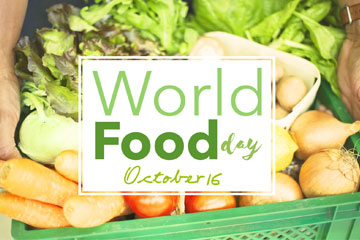 Food is the essence of life and the bedrock of our cultures and communities. One of the most celebrated days in the United Nation calendar, World Food Day is observed on October 16. This annual celebration promotes global awareness and action for those who suffer from hunger. According to Food and Agriculture Organization (FAO), the global population is expected to reach almost 10 billion by 2050, and over 2 billion people do not have regular access to safe, nutritious and sufficient food. Another alarming fact is that nearly 690 million people are hungry – an up 10 million since 2019 – and depending on the economic growth scenario, the COVID-19 pandemic could add between 83-132 million people to this number. As we are witnessing a steady increase in hunger since 2014, let's work together and tackle the issue of global hunger on World Food Day.
Celebrated every year around the world on 16 October in honor of the date of the founding of the UN's FAO in 1945, World Food Day marks the 75th anniversary of the FAO. As countries around the world deal with the widespread impacts of the COVID-19 pandemic, the world food day calls for global solidarity to help the most vulnerable people recover and make food systems more sustainable and adaptable to shocks.
Every year World Food Day is observed with a special theme that focus attention to hunger issues. Last year the theme for World Food Day 2019 was "Our actions are our future healthy diets for a #ZeroHunger World." This year the theme is "Grow, Nourish, Sustain. Together. Our Actions Are Our Future."
Per the FAO, certain indications have substantiated the need to accelerate and scale up actions to strengthen food systems and protect people's livelihoods, as the impact of malnutrition – in all its forms such as undernourishment, micronutrient deficiencies, as well as overweight and obesity – on the global economy is estimated at USD 3.5 trillion per year. The responsibility to help ensure that our food systems grow a variety of food to nourish a growing population and sustain the planet doesn't only lie with governments; each and every individual has an equal responsibility to work towards this goal. Starting from making food choices – that improve both our health and our food system – to not letting endurable habits fall by the wayside, we all have a role to play.
Moreover, as we all are hit hard by the pandemic and economic crisis – particularly for poor and vulnerable communities – it is more important than ever to recognize the need to support our food heroes – from farmers to, factory workers, food transporters to shopkeepers – who are making sure that food makes its way from farm to fork even amid disruptions as unprecedented as the current COVID-19 crisis. So this year let's make an effort to thank each one of them and at the same time, we can also be a food hero too.
To become a food hero, follow these tips:
Choose healthy, local and seasonal foods: A healthy meal pattern will include a plenty of plant-based foods – such as fruits, vegetables, grains -, a variety of protein foods – such as meat and its plant-based alternatives (legumes, nuts, seeds, and soy)- and dairy foods or their calcium-fortified plant-based alternatives. As a consumer, try to eat according to the seasons to help reduce the amount of resources needed to bring foods from afar. This will help promote sustainability of our food supply and the availability of a broader selection of foods to promote good nutrition. Also, strengthen your local food system by shopping at local farmers' markets that sell fresh, high-quality foods for fair prices.
Learn how to grow food at home: According to FAO, today only 9 plant species account for 66% of total crop production, despite the fact that there are at least 30000 edible plants. To nourish people and sustain the planet, it is necessary to grow a variety of food.
Respect your food and the environment by wasting less food: It is accounted that approximately 14% of food produced for human consumption is lost each year between the stages – where it is grown or raised up to when it reaches the wholesale market. Let's avoid that and respect what we have. Also, practice good food hygiene.
Close the digital gap: Over 3 billion people in the world lack access to internet and most of them live in rural and remote areas. Smallholder farmers need greater access to finance, training, innovation and technology to improve their livelihoods. With new technologies, smallholder farmers can have access to satellite imaging, remote sensing and mobile and block chain apps with the potential to optimize food chains, increase access to nutritious foods, reduce food loss and waste, improve water management, fight against pests and diseases, monitor forests and prepare for disasters.
More than just eaters, we as consumers have the power to influence what is produced through healthy food choices, which in turn, will contribute to more sustainable food systems. Make #WorldFoodDay your day by sharing messages on your actions or develop an activity and support those who struggle for access to nutritious food.