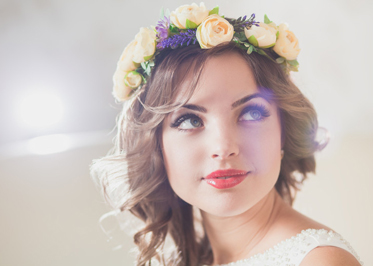 Naturally, you want to look your best on your wedding day. Youthful-looking, glowing skin can contribute a lot to your overall looks on your big day. It is not a good idea to leave it until the last minute to think about your skin. So review how you were taking care of your skin all these days and bring necessary changes to your skin care regimen to prepare your skin for the special day of your life.
Here are some skin care tips that will help you look attractive and special on your wedding day.
First of all make it a routine to cleanse your skin regularly. If dirt, makeup or other toxic elements remain on your skin, it is not going to do you good. It would be good if you clean it at least twice a day.
The skin area covering your eyes can have a noticeable impact on your photos on your big day. So avoid the possibilities of dark circles, puffiness or crow's feet that can spoil your image. Use a quality under eye cream that has both brightening and moisturizing agents.
You may start drinking green tea, if possible every day. This would help with weight loss and its antioxidant and anti-inflammatory properties would help to brighten the skin and diminish acne.
Remember to keep your skin moist at all times. This habit would help you achieve a dewy, glowing, soft and youthful skin. An oil and water-based hydration helps if your skin is dry or sensitive, and a water-based hydration is recommended for oily skin.
Beautiful-looking hands are the key when it comes to wedding ring pictures. So keep your nails and cuticles healthy. Have a home care regimen to make your nails stronger and soften your cuticles.
When it comes to skin care, don't neglect your feet as this too adds to your overall beauty. Imagine walking down the aisle with dry, rough, cracked heels. So have a quality rejuvenating pedicure once or twice a week.
For a comprehensive bridal skin care routine, it is really important to exfoliate not just selected areas but from top to toe. This helps you to get rid of dead skin cells and reveal a more flawless smooth skin.
Of course, take care of your dark underarms, especially when wearing sleeveless outfits. Exfoliate your underarm and moisturize it after bath to get the desired smoothness and softness. You can use scrubs to soften the elbows.
Make sure that you don't try any new beauty products up to three weeks before your wedding day. Only use tried and tested products that meet the required quality and that gave you the desired results.
And don't forget your lips. Use a good quality lip balm and apply it regularly throughout the day for at least one week before the wedding day to make it beautiful, soft and smooth.
Are you planning for a good skin care regimen to prepare for your special day? Then consider the above mentioned tips to make it complete and highly effective.