Flu or influenza is a highly infectious respiratory virus. The current flu season is very severe and more and more people are being hospitalized every day. The Centers for Disease Control and Prevention (CDC) says that the number of people who have seen healthcare providers for the flu is the highest since 2004. Those at high risk of developing flu complications include young children, pregnant women, and adults age 65 and older. People who have flu symptoms such as fever, body aches, chills, headache nasal congestion and cough should see their physician without delay. Those with severe flu symptoms will need emergency care. The CDC says that the current flu season could last until May, and you need to know how to protect yourself and your family.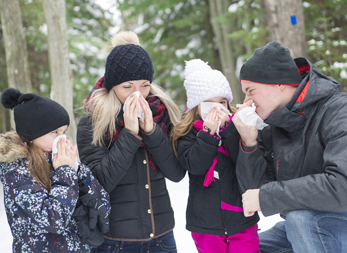 The best preventive measure is to get a flu vaccine. The CDC recommends that everyone over six months old get the flu shot. When people who are vaccinated do get the flu, it tends to be milder and less infectious and at the same time this vaccine might be good on other strains of the virus, says William Schaffner, M.D., an infectious disease specialist at Vanderbilt University in Nashville and medical director of the National Foundation for Infectious Diseases. And it's not too late to get a flu shot. One thing you need to remember is that it would take up to two weeks after you've had your shot for your immunity to come into effect.
Apart from getting a flu shot, medical experts offer the following tips to avoid and minimize the spread of germs:
Consider using a humidifier because dry air helps the flu virus live longer. A humidifier would help to keep the humidity level at 30 to 50 percent.
To reduce the chance transmitting the virus you might have on your hands, avoid touching your nose and eyes.
Cover your nose and mouth when you sneeze. Use a tissue to catch your sneeze and dispose of the tissue safely.
Wash your hands regularly. A good option is to use a hand sanitizer with at least 60% alcohol. If you're using soap and water, rub your hands together for at least 20 seconds.
Stay away from people who have symptoms of flu.
If you have flu symptoms, consult your healthcare provider and take the prescribed medications. Stay at home and get lots of rest and drink lots of water.