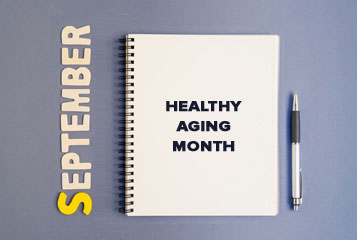 The month of September is observed as Healthy Aging Month. It was created by Carolyn Worthington, editor-in-chief of Healthy Aging® Magazine and executive director of Healthy Aging to draw attention to the positive aspects of growing older. Healthy Aging Month aims to raise awareness about the importance of following a healthy lifestyle as you age.
It's a fact that as we age, our mind and physical appearance change. But thinking that you are getting older and can't do anything like before is not a healthy thing. The major goal behind this annual health observance is to overcome such insecurities. It targets those who are 45-plus to provide inspiration about the aspects that can positively impact their physical, social, financial and mental wellness.
So how can we ensure healthy aging? The answer is: by adopting a healthy lifestyle.
By following a healthy lifestyle, you can not only deal with aging changes but also prevent health problems and make the most of your life. From improving your diet and levels of physical activity to getting health screenings and managing risk factors for disease, there are many things you can do to.
Here are some tips for re-inventing yourself this Healthy Aging Month:
Stay positive: Maintain a positive attitude and ditch all the negativity. Surround yourself with energetic, positive people of all ages and do things which will make you happier. It will make you feel positive and go a long way towards feeling better about yourself.
Stay active: Staying fit and active is necessary at all ages, but older adults need to consider this very seriously. They have to choose right kinds of physical activities that they can do comfortably. Walking is one of the best exercises for seniors – it not only keeps you fit, but also increases flexibility, boosts your mood and safeguards your health. Walk for at least 15 minutes every day. With the advisory to stay indoors due to COVID-19, you could sign up for paid or free online classes or programs to stay active. You could choose from yoga, Pilates, weightlifting, tai chi, and a variety of active older adult classes.
Stay Social: Don't lead a sedentary lifestyle that lacks the interaction with friends and family as it can lead to depression and many other health issues. Make an effort to get in touch with your old friends or make new friends. Socialize, even if it's virtually.
Have regular eye exams: Aging is associated with loss of vision, depending on family history, health and certain eye diseases. However, eye diseases don't usually have any early symptoms, but can be detected during an eye evaluation. Early detection and treatment are the key to saving your sight. So, don't miss your regular eye exam. Online options are available, but you may have to see your physician if you need comprehensive tests.
Maintain good oral health: One of the essential elements of healthy aging is to maintain good oral health. Get a regular dental exam to identify and treat problems before they get worse. Brush your teeth twice a day, floss once a day, and quit smoking.
Get regular health check-ups: It's very important to get regular check-ups and yearly physicals, because many diseases can be effectively treated when caught early. Never ignore symptoms. If you're not feeling well, don't "wait for it to go away" – contact your doctor, even if you feel it's not a serious ailment. Always follow what your doctor recommends in taking medications and vitamins/supplements.
Maintain a healthy diet: For healthy aging and to maintain a healthy weight, good nutrition is a must. Eat a lot of fruit, veggies, healthy proteins, whole grains, and healthy fats. The United States Department of Agriculture emphasizes the need for more vegetables and fruits in the American diet, and recommends five a day. Avoid excessive processed foods and cut down on sugar and salt. Importantly, stay hydrated by drinking a lot of water, at least 6-8 glasses per day.
Quit smoking: If you smoke cigarettes, quit. Quitting smoking is one of the most important things that you can do for your health. It can lower your risk of getting different types of cancer, certain lung diseases, and heart disease.
September is considered to be a perfect time to celebrate this observance, because it's the time when many people think about getting started on new tasks after the summer. So, if you are looking to reinvent yourself, this is the ideal time to start!