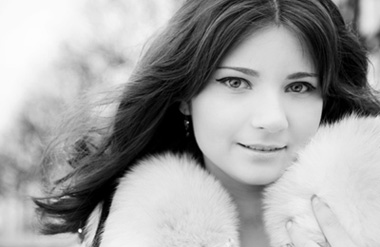 Proper skin care is important to look beautiful, delay the natural aging process and prevent skin problems. In the cold winter months, caring for your skin becomes all the more difficult as chilly temperatures, dry air and strong winds can wreak havoc, making the skin dry and robbing it of its suppleness. Here are some tips that can help you keep your skin smooth, soft and healthy throughout the season.
For dry winter skin, use a moisturizer that's oil-based rather than water-based. A lotion with salicylic acid can help exfoliate dead cells around the hair follicles and reduce the appearance of bumps.
Keep yourself hydrated by drinking a lot of water which is the best moisturizer.
Winter sun combined with snow glare can be problematic. Apply sunscreen on your face and your hands half an hour before you go out.
Wearing gloves when you step out would keep your hands moist and help avoid itchiness and cracking. Importantly, avoid wet gloves and socks.
If your skin has become cracked, flaky, or itchy skin, see a dermatologist. Based on the nature of your skin, the doctor can advise you on the right products to use to resolve such issues.
Placing humidifiers in all the rooms would help disperse the moisture more evenly and keep the air in your home from drying out.
Use a moisturizing soap-free cleanser or a hydrating antibacterial gel to wash your hands.
Try a natural therapy. A mix of honey and sugar is a good scrub to soften stubborn dry patches on rough elbows and knees. While the honey will reduce inflammation, the sugar can improve blood circulation.
When you have a shower, stick to lukewarm water – not hot – and gently pat yourself dry to avoid traumatizing the skin. Don't forget to moisturize after that.
Use a hydrating scrub on sore feet at night before applying moisturizer. Wear socks overnight.
Choose soft sheets and sleepwear, especially if you have sensitive skin.
Your skin is driest in winter, which leads to fine lines and wrinkles. That's why winter is considered the ideal time to have skin rejuvenating procedures such as laser skin resurfacing. These procedures improve the overall tone and texture of the skin and make it look healthier. Cosmetic surgeons offer these treatments to resolve facial wrinkles, pigmentation, loss of skin tone, acne and other such issues. For instance, Fractora™ is a radiofrequency energy wrinkle treatment that provides dramatic improvement in skin and wrinkles by restructuring deeper tissue.