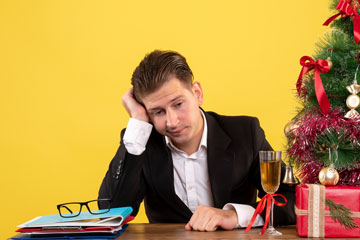 Everybody looks forward to the holiday season. However, it often brings unwelcome guests – stress and depression – that can ruin the fun and even affect your health. The demands of the season – shopping and running errands while battling crowds, back-to-back holiday parties and social gatherings – are all potential stressors. Besides this, feelings of loneliness and isolation are also common around the holidays. Seasonal affective disorder can also increase the likelihood of negative thoughts. Planning well ahead for the holiday season and seeking support when needed can help ward off stress and depression. Here are some useful tips to help with holiday stress –
Plan Ahead – Finding time for all the holiday activities can be complex. On top of holiday commitments, you may feel extra pressure to get ahead of work so that you can take time off to travel or party. Creating an action plan can help relieve stress. Note down all the things that need to be done and establish priorities.
Be Realistic – The holiday season can be full of commitments right from – parties to meetings. To manage stress, make a list of what you expect from yourself, what others expect from you and your responsibilities. Place it on a calendar to get a feel for what the coming months will look like.
Get enough Rest and Maintain Healthy Habits – Stress builds up when a person is tired. Therefore, get enough rest during the holiday season. Maintaining healthy habits can help you manage stress more effectively. This includes getting enough sleep, eating a balanced diet (even at holiday parties) and staying physically active. It can also include finding time for workouts and self-care.
Manage Emotions – For some people, the holiday season can bring emotional trauma due to painful memories or family conflict. Emotional trauma and depression can encourage a person to eat more, resulting in weight gain and skin breakouts after the holidays. Focus on managing your emotions.
Do Less – The spirit of the holiday season can sometimes lead even the most pragmatic people to overcommit their time. When looking at the to-do list, be fair to yourself. Figure out what is most important, or where you most want to go, and allow yourself to say no to other demands on your time.
Keep your Mind Steady – Even with the best-laid plans, there comes a time in holiday season that overwhelms the mind. This can be while choosing a gift, attending multiple parties and organizing family gatherings. Therefore, give yourself a break and keep your mind steady even if you are under tremendous pressure.
Learn to Say No – Saying "YES" when you should say "NO" can leave you feeling resentful and overwhelmed. Always say "NO" to obligations you consider will cause heartache and disappointment. For instance, if you can't participate in every project or activity, it's absolutely normal and your friends and colleagues will understand it.
Find Individual Time – Find some time for yourself by engaging in your favorite activity. Take a break in between the activities. Spending just 15 minutes alone, without any distractions, will leave you refreshed to handle everything you need to do. Ways to reduce stress include – taking a walk at night, listening to soothing music or reading a book.
Learn to recognize holiday triggers such as financial pressures or personal demands, and take steps well in advance to deal with them and prevent stress and depression. With a little planning and positive thinking, you can make your holidays enjoyable and memorable.