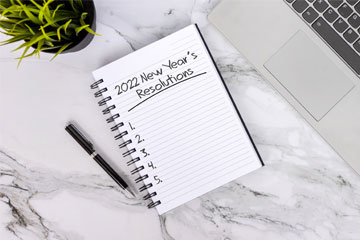 We are in the last days of 2021 and getting ready to welcome 2022. If you are planning to start by making some positive changes, it's likely that you are preparing a list of New Year resolutions. This is a regular ritual for most people as the end of a year approaches, but it's also common for resolutions to be abandoned midway. According to a report in the Journal of Clinical Psychology, only 46% of the people follow their New Year resolution successfully throughout the year. That means more than half of the people who make resolutions fail to follow them after the initial few days! The probable reasons for the failure to keep New Year resolutions include:
Resolutions taken on someone's advice
They are too vague
There is no realistic plan
The good news is that there are some simple ways to make your resolutions stick.
Tips to Keep Your New Year Resolutions
Prepare Mentally for Welcoming Changes

New Year resolutions bring changes to your life but changing existing habits is challenging. So it's important to prepare mentally for welcoming those changes in your life. Before taking a resolution, analyze your achievements and failures over the past year and focus on the positives. The positive attitude will help you to achieve your goal. However, big changes are impossible in short span of time. Plan small changes in the initial phase and don't feel down if you fail to achieve your goal. The previous year's achievements/failures will motivate you to restart and achieve your plan. So the first step it to prepare yourself mentally to accept changes as well as failures.

Set Your Own Goals

Goals always drive you to achieve something. However, many people set goals for someone else, such as their boss, spouse, parents, and so on. This is considered a major reason for the failure of resolutions. It is very important to set your own goals as this will motivate you.Focus on your goal, dream, priorities and aspirations to succeed with your New Year resolutions.

Have a Clear Plan

You should be clear about your resolutions and the specific actions you'll take. If your resolutions are big enough, break them into smaller fragments and plan to achieve them in various phases. You can make list out your resolutions by scheduling them in order and also the time frame for achieving them. Note them down in a notepad or excel sheet. Planning ahead will help you to get an idea about the probable obstacles that may come up during the journey towards your goal. Consider making a backup plan in advance if you can't overcome the obstacles.

Limit Your Resolutions

There are many things that you may want to change for yourself. However, if your list of resolutions is too long, you would find it difficult to fulfill them. Limit yourself while preparing your resolution list. This will motivate you to achieve them perfectly. Prioritize your goals and then finalize and reframe your resolution list.

Track Your Progress

After you start following your resolutions, track your progress. If you made a list, you can mark successfully achieved goals or note them down somewhere. This will motivate you to achieve the rest of your resolutions.

Set SMART goals

It is easy to set bad goals that will result in failure. The SMART goal setting framework helps you to craft resolutions better. SMART stands for Specific, Measurable, Attainable, Relevant and Time:

Specific: Articulate your resolutions clearly

Measurable: Set quantifiable goals

Attainable: Choose something which you can successfully complete

Relevance: Make sure your goal matters to you and you are making it for the right reasons.

Time: Set yourself a time frame to achieve the goal.

Share Goals with Family Or Friends

After you make your New Year resolution, share them with your family and friends. They will motivate you to keep yourself going forward and achieve your goal.

Reward Yourself

Rewards can improve motivation. Self-gifting is a good idea. You can set a reward for yourself if you achieve a milestone. This will motivates you to achieve all your goals before the year ends.
Today, there are a multitude of technological tools and mobile apps to help you plan your resolutions. Free tools you can consider include Google calendar, Google now, Boomerang for Gmail and mobile apps like Asana, Trello, Todoist, Microsoft to do, Omnifocus and Things.
New Year resolutions bring changes to your life. However, there is no particular time for bringing changes to your life. If you made mistakes in planning or execution, learn from those mistakes and improve yourself.
Have a great year ahead!