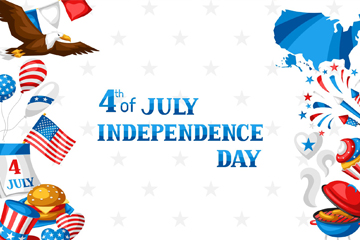 The Fourth of July is almost here and people across the country are getting ready to celebrate a colorful weekend. The event is all about fireworks and patriotic pride, but the day can turn to dangerous if safety is not considered. Experts have issued warnings about firework injuries such as severe burns, blindness, scars and even death. According to the Consumer Product Safety Commission (CPSC), five people were killed and more than 9,000 were injured last year in fireworks-related incidents, the majority in a one-month period around July 4. As you celebrate this wonderful occasion, keep safety in mind to avoid a trip to the Emergency Department.
To reduce risk, the Consumer Product Safety Commission (CPSC) recommends that fireworks be lit one at a time, never thrown or pointed at another person, or re-lit or picked up if they fail to ignite. Young children should not be allowed to light or play with fireworks even if an adult is present. Fireworks that are often thought to be safe, such as sparklers, can reach temperatures above 1000°Fahrenheit and burn users and bystanders.
Taking these simple tips can keep you and your family safe during the Independence Day celebrations:
Read all directions, cautions, labels and warnings about the fireworks you bought and understand how they work and what hazards exist.
Follow all local and state laws regarding the possession and use of fireworks. Buy fireworks from reliable, licensed retailers who will only provide legal products that meet your state's standards and comply with the U.S. Consumer Product Commission.
Leave the fireworks to the professionals. On the other hand, if you are using them make sure you light them in a clear outdoor area, away from buildings, cars and trees. Never light fireworks indoors.
Wear eye protection such as safety glasses if you are close to the fireworks launch site.
Watch out for windy conditions.
Make sure you are ready with a fire extinguisher, water supply, hose or bucket of water that is accessible for emergencies. A connected hose is recommended.
Never hold a lit firework in your hand.
Ensure you wet used fireworks before throwing them away to prevent a trash fire.
Back up to a safe distance immediately after lighting fireworks and make sure no part of your body has direct contact over a firework device when lightning the fuse.
Never carry fireworks in the pocket or shoot them off in metal or glass containers.
Never handle fireworks if you are on alcohol because impairment increases the possibility of misuse and injury.
Light fireworks on a hard, flat surface as it ensures the stability of fireworks. If your surface is filled with grass, gravel and sand make sure you use a strong piece of plywood for a shooting surface.
Keep pets inside during the fireworks display because light and noise usually frighten animals.
Unused fireworks should be placed in a sealed container or kept under cover away from the launch site, because spark from active fireworks can ignite idle fireworks and can cause major injuries.
If you are planning a 4th of July barbecue, take these safety measures:
Make sure your grill is placed well away from your home and deck railings, and out from under branches or overhangs.
The gas grill is opened before lighting.
Remove grease or fat buildup in trays below your gas or propane grill so it cannot be ignited.
Declare a three-foot "kid- and pet-free zone" around the grill to keep them safe.
Avoid loose clothing that can catch fire when cooking on the grill.