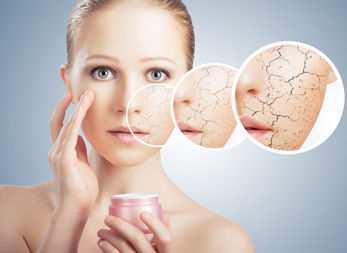 In winter, the skin tends to lose moisture and become dry. You need a special skin care regimen in the cold season to avoid dryness, flaking and itching and to keep your skin fresh and glowing. Here are some tips to keep your skin healthy in winter:
Watch your diet during the season. Including more fruits and fruit juice can help fight dry skin. Make sure your diet has foods rich in vitamin A and vitamin E.
Avoid hot water baths, steamy showers and long baths in winter as these tend to damage the skin and make it drier.
Wear clothes that cover the most of the body so that your skin is not exposed to the cold air.
Dry, chapped lips are a common problem in winter. Using the lip scrubs with natural moisturizers like butter, oils, glycerin can address the issue.
Stay hydrated to help the skin retain moisture. Drink plenty of water and healthy juices.
Apply a moisturizing, broad-spectrum sunscreen with at least SPF 30 on exposed areas before heading outdoors.
Maintain a skin-friendly environment at home. Opt for humidifiers that work with your heating system to put moisture in the air so that it will be absorbed by your skin and hair.
While you cannot completely prevent your skin from becoming dry in winter, these simple strategies can minimize the damage and keep it healthy and glowing.