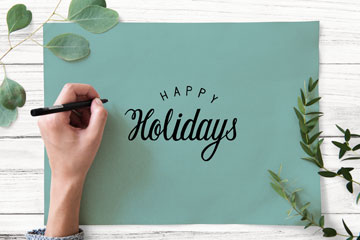 The holiday season is the best time to gather with family and friends, though this year, the celebrations will be different due to COVID-19 and the flu. As you celebrate, you need to stay safe and avoid getting infected. The best way to celebrate this holiday season is at your home with the people who live with you. Given this holiday season's challenging circumstances, here are 7 tips to enjoy the celebrations:
Maintain Healthy Habits: Pay special attention to your overall health and what you eat. Utilize this holiday season to plan a healthy routine for yourself and whole family. Start your day with a healthy breakfast and get 7 hours of sleep each night. Include a lot of fruits and vegetables in your diet. Limit the intake of sweets, and salty and fat-laden foods.
Beware of Seasonal Sweets: As you spend more time at home during holidays, you will have an urge to snack in between. If you have cravings, eat healthy snacks to quell them. You can host a virtual holiday party, and challenge yourself and your virtual guests to prepare healthy, delicious food.
Make Traditional Treats: Celebrate the season by preparing traditional family dishes for your family or friends and neighbors. Follow all the recommended safety precautions when you prepare food. When sharing homemade food with a neighbor, leave it on their doorstep or deliver in a way that reduces in-person contact.
Stay Active and Hydrated: During the holidays, exercise is one of the first things we tend to neglect. Make a family commitment to stay active for at least 30 to 60 minutes every day. Dance to your favorite music or venture out for a walk around the neighborhood to check out the holiday lights. Drink plenty of water to keep your body hydrated and reduce hunger cravings.
Manage Stress with "me time": Holidays are usually the time for fun, celebrations and big parties. This year, things are different with social distancing. Use the opportunity to make some time for yourself. "Me Time" will give you a chance to relax and rejuvenate. When you buy gifts for everyone on your list, buy something for yourself too!
Get Enough Sleep: Getting enough sleep is critical to stay healthy during the holidays. Be consistent about when you to go to bed and wake up. Do not buy into the misconception that you can catch up on the sleep you miss on the weekends. Make getting enough sleep a priority every night.
Do it Virtually: Make it a virtual celebration. Participate in religious events virtually, play online games, watch movies at home, or host a virtual dinner party. Browse online for other virtual holiday ideas.
It is important to remember the basics as you enjoy the holiday season. Wear a mask, practice physical distancing, and wash your hands thoroughly for 20 seconds as this is the time to take care more of your health compared to previous years. Consider the following precautions:
Schedule a flu shot. Taking a flu shot is always recommended, and this year it is especially important to avoid hospital visits or hospitalizations.
People who are affected or exposed to COVID-19 or have its symptoms should stay at home and do not attend in-person gatherings.
Avoid unnecessary travel to minimize disease risk. If you are thinking of traveling, consider whether it is needed or not. After all, your health is more important.
Be careful when you travel. Before visiting a place, consider the number and rate of COVID-19 cases in that area.
Avoid large indoor gatherings. Smaller and shorter gatherings are safer than longer-ones. Restrict indoor gatherings to only the people you live with. If guests come over, consider opening windows, wearing masks while talking, serving food, etc., and encourage everyone to practice physical distancing.
Prioritize your health this holiday season. Going by these tips will help you enjoy a healthy, happy and memorable holiday season.