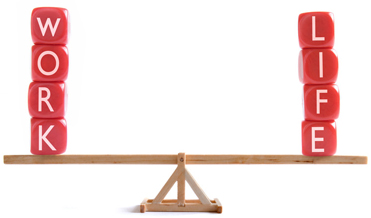 Creating a better balance between work and personal responsibilities is crucial in today's world where the boundaries between our personal and professional lives seem to overlap. Work-life conflict has been linked with many physical and mental health problems. Excessive strain can result in burnout. Tweeting throughout dinner, checking email in bed, and taking work calls on the weekend have become common practices which encroach on the time you should be spending with your family. Lack of proper balance between work and personal life often leads people to 'de-stress' with smoking and alcohol, which ultimately have far reaching negative impacts on health and wellbeing.
Many Americans work long hours and tend to overdo it., depriving themselves of even a vacation. One way to overcome this is to plan for downtime into your schedule. You can fix the time you will spend on relaxation activities during the week. If you miss downtime, be sure to make up for it!
In addition to setting aside time for family, you should set aside time for your personal wellbeing too. Take care of your health by exercising regularly and eating right. Working long hours will cause stress to build up. This will affect your immunity, cause sleep deprivation, and even lead to severe health conditions such as heart disease and digestion issues. Make sure you delegate time for health checkups, maintenance and other essential activities as this way, you will have to face fewer emergencies.
Cut down on activities that take up too much of your time or energy. Avoid lengthy gossip sessions. Try to delegate some of your chores – this will boost your energy and also give you more time to relax.
Make time for a hobby such as gardening, painting or reading. Refresh yourself by listening to music, spending time with nature, or visiting new places alone or with your loved ones.
Having a strong support network of family and friends can make a positive difference to the way you manage your busy lifestyle.
Understanding the importance of work-life balance, many top organizations are making a serious effort to provide their employees with flexible work options. They have realized that helping employees maintain a proper fit between work and life is crucial to improve productivity and attract and retain the best talent.