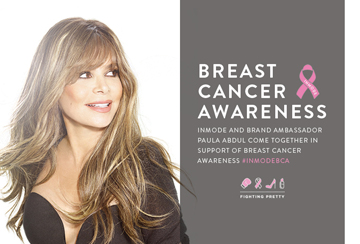 October is observed as Breast Cancer Awareness Month, which is an annual campaign organized to highlight the importance of early detection and treatment of breast cancer, one of the most common cancers found in American women. The campaign starts on October 1 and ends on October 31. This year, InMode, a prominent medical technology company and its brand ambassador, Paula Abdul, International Pop icon, have come together in support of Breast Cancer Awareness with #INMODEBCA.
According to the American Cancer Society, about 1 in 8 U.S. women (about 12%) will develop invasive breast cancer over the course of her lifetime. In 2019, an estimated 268,600 new cases of invasive breast cancer are expected to be diagnosed in women in the U.S., along with 62,930 new cases of non-invasive (in situ) breast cancer. Breast Cancer Awareness month is observed with the aim to reduce these numbers.
InMode is a leading global provider of innovative, energy-based solutions that offer cutting edge medical devices for minimally-invasive and non-invasive procedures. They provide amazing results for the patient and the practice. InMode's technological advancements began over two decades ago with state-of-the-art light, laser, and radiofrequency devices invented by leading doctors and scientists, who essentially launched and shaped the industry. Their technology continues that legacy to provide superior satisfaction for both the patient and the practice. This year, InMode along with Paula Abdul have come forward to support Breast Cancer Awareness. Paula Abdul has joined InMode as their brand ambassador to share her positive experience with the Company's BodyTite, FaceTite and Morpheus8 technologies. Plastic surgeon Spero Theodorou, MD of bodySCULPT in NYC, who is also InMode's Chief Medical Officer, notes that Paula is an excellent choice as InMode's brand ambassador.
In 2014, in honor of Breast Cancer Awareness Month, Paula along with a women's foundation launched a powerful new call to action – #CheckYourself – that features the release of a new music video created and led by her. It is a global movement that aims to raise awareness and start conversations about how women and men can take action for their own breast health through screening, detection and treatment.
According to Paula Abdul OFFICIAL FAN SITE, she said, "Singing and dancing are my passions. I am thrilled and inspired to have had the opportunity to apply these passions to create a new music video in support of the breast cancer awareness cause, and the new global #CheckYourself for Breast Cancer campaign is very personal for me." She also shares that her sister Wendy was diagnosed with breast cancer in 2000 and as a breast cancer survivor and champion for the cause, she inspires Paula every day.
Early detection of breast cancer is important to avoid further complications. According to the National Breast Cancer Foundation, "when breast cancer is detected early and is in the localized stage, the 5-year relative survival rate is 98%. Early detection includes doing monthly breast self-exams and scheduling regular clinical breast exams and mammograms."