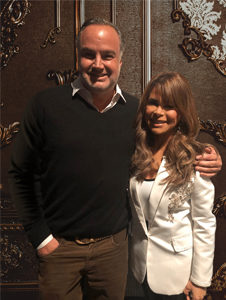 Singer, dancer, choreographer and pop legend Paula Abdul's made news recently with her admission about having cosmetic surgery. She is set to kick off the second leg of her Forever Your Girl Las Vegas residency on October 22. Appearing on "The Wendy Williams Show" on October 3, Paula openly talked about the procedures she had when the host praised her for "never" aging. The 57-year-old singer admitted to having aesthetic treatment because she wanted a "little sleeker jawline" before launching her Las Vegas residency. InMode's minimally-invasive BodyTite/FaceTite technology helped her achieve her goals. In fact, Paula has been roped in as brand ambassador for InMode in August.
"Women of our age, we start really looking for aesthetic treatments that resonate with you. I was thinking, I'm going to have my residency, I want to do something but I wasn't ready to have the big incisions or any face lift," Paula said on The Wendy Williams show.
After hearing about InMode's minimally-invasive and no scar procedures, she decided to give it a try. The BodyTite system proved the ideal option to sculpt and remodel Paula's arms while EmbraceRF that combines two powerful InMode technologies, FaceTite and Morpheus8, addressed her lower face, jawline and neck. Paula said that what she loved about InMode's technology is it's minimally invasive and involves no visible scars and no big incisions.
Her host's remark, "I don't see anything, except a flat neck" confirm the successful outcomes.
Unlike more extensive cosmetic surgery, which requires general anesthesia, InMode's minimally-invasive radiofrequency assisted procedures need only local anesthesia. Paula said she was given an Ativan, an anti-anxiety medication and that her procedure took an hour, maybe less. Downtime was minimal too – she was "walking around two or three days later", she told the show's host.
At age 57, Paula looks as good as some women half her age and has the physique to show it. Though she is very physically active and keeps fit with her workout routine that includes a lot of stretching and back and core work, she acknowledges the aging effects that gravity can have on the body. InMode's technology proved the right option to address age-related aesthetic concerns in her arms, lower face, jawline and neck.
Excited by her results, Paula wants to share what the BodyTite/FaceTite procedure did for her and can do for others. She said, "I am proud to get the word out about what InMode's amazing technology in face and body rejuvenation can do for people like me who notice the inevitable effects of natural aging. While maintaining a healthy lifestyle of fitness and skincare routines, I still wanted more definition and tighter, firmer skin at my jawline and arms – and InMode's BodyTite and FaceTite helped me restore a sleeker, more youthful look without invasive cosmetic surgery. I am very pleased with the results!"
Plastic surgeon Spero Theodorou, MD of bodySCULPT in NYC who is also InMode's Chief Medical Officer, noted that Paula was an excellent choice as InMode's brand ambassador.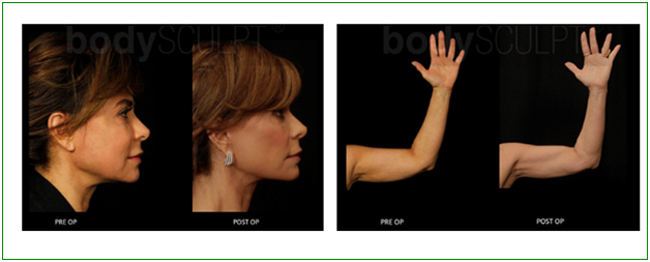 Leading NYC plastic surgeons Drs. Spero Theodorou and Christopher T. Chia of bodySCULPT in NYC invented BodyTite on Arms, a scarless arm lift procedure. This is an innovative RF technique used to enhance the contour of your arms under local anesthesia to tighten and remove the excess skin under the arms, without leaving any scars. Dr Theodorou also developed EmbraceRF, a unique one-time facial rejuvenation solution effectively treats skin laxity and excess fat accumulation in the face and neck area.