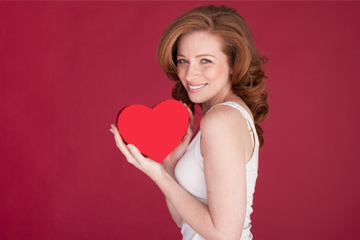 February 14, the day to celebrate your love, is round the corner. Start getting ready to look really gorgeous on this lovely occasion. Ranging from clothes to makeup and hairstyle, make the right changes and refresh yourself.
Here are some tips to help you look your best from head-to-toe:
Invest Time in Skin Care
Make sure to use organic, pure and natural skincare products. Vitamin C helps in the collagen production and tissue repair. Use high-quality vitamin C supplements. Vitamin C serum is useful in improving blood circulation, detoxifying skin, and improving skin tone. Regular moisturizing can keep your skin hydrated, glowing and smooth. Quality moisturizers can protect your skin from changes in air and temperature that usually dry out skin. Exfoliation can keep your skin radiant, but take care to use a method that works the best for your skin's and doesn't cause inflammation.
Some Key Recommendations for Proper Skin Care
Work Out and Maintain a Healthy Diet
A healthy and balanced diet along with proper workouts can help you reach and maintain a healthy weight. Start ramping up your fitness routine and cleaning up your diet. Even if you workout daily, consider increasing your workout frequency and add extra exercise sessions to your routine. High-intensity interval training (HIIT) is an ideal option to increase heart rate and burn fat. Avoid starving and never skip breakfast. Include more vegetables and fruits in your diet. Stick to healthy snacks.
Foods to Avoid & Foods to Include In Your Diet for Good Skin Quality
5 Seasonal Fruits and Vegetables to Include In Your Diet During Winter
Get Enough Sleep
As you may know, getting a good night's sleep plays a key role in a person's health and well-being. Insufficient sleep is bound to show on your face, even if you are well dressed. Get at least seven hours' sleep at night to look fresh on Valentine's Day. Proper sleep reduces physical and mental stress and can improve mood and mental health. Remember that weight gain and obesity occurs mainly due to lack of sleep.
10 Surprising Health Benefits Of A Good Night's Sleep
Stay Hydrated
Drink lots of water and stay hydrated so that your skin will stay soft, supple, and blemish-free. Drink at-least 6-8 glasses of water a day. Drinking enough water can support your weight loss efforts, help in maintaining hormonal balance, moisturize and make your skin glow, and improve blood circulation. It also regulates body temperature, flushes out toxins, and keeps your skin looking youthful.
11 Health Benefits of Drinking Enough Water
Aging Gracefully: Importance of Drinking Lots Of Water
Consider getting Plastic Surgery to fix a Specific Aesthetic Concern
Plastic surgery can fix many aesthetic concerns. There are a wide range of minimally invasive and non-invasive plastic surgery procedures to choose from to improve body contour with natural-looking results. Whether your concern is to improve the appearance of your breasts, enhance facial appearance, address wrinkled or drooping eyelids, reshape and enhance the chin or get a trim, toned abdomen, schedule a consultation with an experienced plastic surgeon. Expert surgeons will recommend the best option to help you achieve your goals. If you are looking for facial rejuvenation, ask your surgeon about non-surgical InMode EVOKE.
How to Address Sagging Breasts Without Surgery
Find the Right Perfume
Along with your beautiful look, make sure you smell good as well. Grab the perfect perfume that best suits your personality. Floral fragrance are a popular option. Spritz perfume on your wrists, neck, cleavage, in your hair, belly and thighs.
On the special day, make sure you apply the best make up, sport a suitable hair style, and wear a special, classy dress.
Happy Valentine's Day!