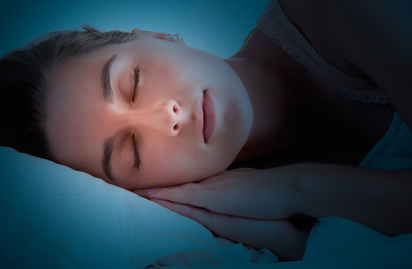 A good night's sleep is important to rejuvenate your body and mind and wake up refreshed. In addition to your beauty sleep, you can wake up looking fresh and pretty with these overnight beauty tips:
Clean and moisturize your face. Moisturizing hydrates your skin and helps keep it looking more youthful and radiant. This is especially important in the winter and also if you have dry skin.
Pamper your feet by applying Vaseline or a good foot cream. Wear socks to keep the moisture in.
Care for your hair by showering before bed and styling your hair. Before it dries out, apply a light nourishing overnight hair formula. Braid your hair or if it's short, use a bandana to keep it off your face. After you wake up, undo the braids, run your fingers through your hair, and set it with hairspray for instant volume and texture.
To avoid waking up with puffy eyes, sleep on your back with an extra pillow. This helps the fluids around the eyes to drain out and minimize puffiness. Using a good quality eye cream can help reduce wrinkles and dark circles. Choose one that suits your skin type.
Brushing and flossing your teeth at least twice a day is important for dental health, fresh breath and a pearly smile. So don't forget to make this part of your bedtime beauty routine.
Let your lashes grow as you sleep by applying castor oil on them at night. Rinse off with warm water in the morning.
For soft feet, use olive oil or a similar oil to massage your feet and wear socks. This is an ideal overnight treatment for rough, dry feet.
The golden rule, of course, is to sleep well. Avoiding coffee and alcohol in the evening can help you sleep better. If you've had a busy day, try breathing and visualization exercises to relax your brain.