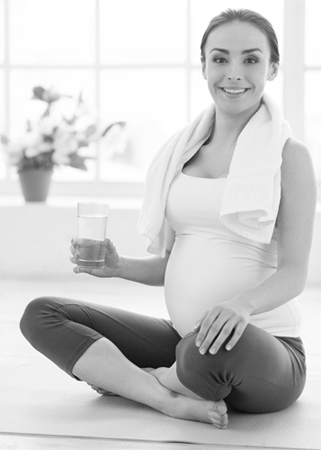 Bringing a child into this world is a wonderful experience. However, even as they enjoy motherhood, new generation moms want to get back into shape as soon as possible. Some women get their body back without much effort, but many struggle with overweight, sagging breasts, and other issues that pregnancy causes. The good news is that getting back your pre-pregnancy body is not impossible. Let's look at some simple strategies that can help you achieve your goal.
Walking is one of the simplest methods and the ideal way to get your body ready for regular exercise after giving birth. Start with a gentle pace and increase speed slowly to tolerable levels.
Tummy bulge is a major issue and exercise can help, though you need to heed your physician's advice on when to start. Prepare yourself with some deep belly breathing with abdominal contraction. This will help relax the muscles, and initiate the process of strengthening and toning your abs and belly.
Once you are ready for exercise, consider the pelvic lift to strengthen the abdominal muscles. Kegel exercise is recommended to tone the muscles that support the uterus, bladder, small intestine and rectum.
Exercise regularly. This will help burn fat and enable you to stay fit.
Breastfeeding changes the shape of the breast, leading to loss of volume and shape. To firm the breasts and reduce sagging, do simple breast exercises that target the pectoral muscle. Toned Pecs lift the breasts and improve their appearance.
Eating right is one of the best ways to get back your pre-pregnancy body. Eat smaller, more frequent, healthy meals and avoid processed and junk food. Fruits, veggies, complex carbohydrates, whole-grains and lean protein that provide all the important vitamins and minerals should be part of your healthy diet, especially when you are breastfeeding.
Avoid overly sugary beverages and alcoholic drinks as not doing so can interfere with your attempts to lose tummy fat.
It is important to stay motivated during your weight loss journey. Tracking weight loss and inch loss can help sustain your enthusiasm and encourage you to move steadily towards your goal of restoring your pre-pregnancy body.
The new generation of mothers wants to stay in shape and look and feel young, but there's a limit to what diet and exercise can achieve. For instance, these measures do not work when it comes to loose abdominal skin and stubborn deposits of fat in the abdomen and other areas. It's no wonder that many are opting for cosmetic surgery to achieve their goals. This has fuelled the demand for the mommy makeover, the novel all-inclusive treatment that includes procedures such as breast lift, breast augmentation, tummy tuck, and liposuction. The procedure addresses the physical changes that have occurred following pregnancy; it mainly involves the rejuvenation of the breasts and the body. This resolves the sagging and deflation of the breasts and excess skin, stretch marks and bulging of the abdomen. The thighs, knees, hips and waist are contoured to provide a better body shape. The procedure may be done in one or two stages, depending on how many areas need to be addressed.