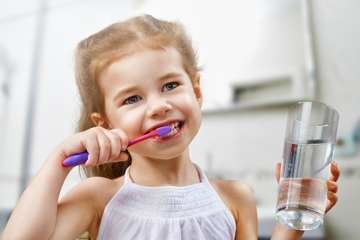 Summer is the perfect time for family outings and get-togethers with the result that daily routines can become more relaxed. But that doesn't mean taking a break from dental care. Maintaining oral hygiene is necessary for healthy teeth and a beautiful smile. Here are few dental care tips to protect your teeth from long-term damage and other mishaps.
Stick to your daily routine without fail: With vacations, camps and more time spent in the pool, adults and kids tend to let up on their dental routine. No matter how busy the day is, stick to your routine of brushing your teeth twice a day and flossing regularly. This is important for essential for your overall health and well-being. If you are on vacation, stock up on extra toothbrushes, toothpaste and floss so that you can stay clean anywhere and at any time.
Cut down on sugary drinks: Temperatures might soar in summer and it's common to sip on cold sweet drinks to stay cool and hydrated. However, soda, juice, lemonade and sports drinks are acidic and may contain a high concentration of sugar, which can lead to tooth decay and enamel erosion. So limit sugary drinks and drink pure water instead.
Avoid unhealthy snacks: Find healthy snack options while on a longer trip or day trip. Unhealthy snacks can lead to an acid attack on your teeth and are not good for your body too. Opt for tooth-friendly foods such as fresh vegetables, fruits or nuts as snacks.
Control your sweet tooth: Many people, especially kids, tend to overindulge in chocolates and candies during the summer holidays. But this can ruin the teeth fast by causing cavities. The key is to eat sweets in moderation or stick to low-sugar or sugar-free options.
Use a mouthguard to avoid dental injuries: When playing Frisbee on the beach or a game of volleyball in the pool, wear a high-quality mouthguard to prevent injuries to your teeth. Also, don't use your teeth as a tool to open bottles, wrappers or bags. Instead, use either your hands or scissors. Using your teeth like a tool can result in chipped or broken teeth.
Prevent dental emergencies: To prevent dental injuries during summer:

Follow "pool rules" – running on slippery pool decks, diving into shallow waters, or bumping the pool ledge can lead to serious dental and other injuries.
Always have an emergency dental care kit ready. According to Academy of General Dentistry (AGD), the essentials for this kit are: a handkerchief, gauze, a small container with a lid, ibuprofen and your dentist's contact information.

Schedule a dental checkup: Summer is the ideal time to schedule a dental check-up, perform tooth cleaning, check for any cavities, gum diseases. or other oral health problems.