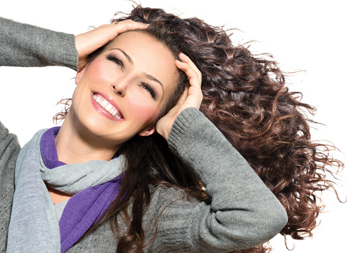 The drop in temperature in the winter months can put your hair and scalp under a lot of stress. If you haven't taken any precautions, the cold, dry air can wreak havoc on your hair. The scalp is prone to dehydration in winter and makes hair brittle, dull, rough and unmanageable. Following a proper winter hair care routine can help prevent these problems. Here are some effective winter hair care tips:
Moisturize: Moisturize your scalp and care to address dryness. To moisturize your hair, massage your scalp with olive oil and leave it in for 20-30 minutes. Rinse it out with shampoo and condition. Slow massaging helps the oil to penetrate deep into the hair roots. This will help to keep your scalp moisturized and improve blood circulation, ensure that your follicles get enough nourishment, and also prevent hair fall. Use a hair and scalp moisturizer once or twice a week with a thick, rich and moisturizing conditioner.
Control frizz: Hoodies and caps can lead to frizzy, static hair. To deal with this, experts recommend combing hair with a vented hair brush that has a combination of plastic and boar bristles. To keep your hair smooth, apply a leave-in conditioner.
Deep conditioning: Conditioning, especially deep conditioning is a vital part of the winter hair care routine. To keep your tresses healthy, use hair oils and deep conditioning packs at least once a week. It is advised to end a wash with cool water as this will seal in the moisture and leave your hair smooth and lustrous.
Cover your hair: During winter your hair will be exposed to extreme cold climate. Cover your hair with a hat or head wrap to shield it from the harsh weather. Using a woolen or silk wrap will help avoid hair breakage. Make sure that it's not so tight that it will restrict the circulation in your scalp.
Avoid over-styling: Don't use tools like hair dryers and curling irons in winter as the heat can dry out your hair and scalp, increasing the risk of damage.
Wash your hair in warm water: Wash your hair only with lukewarm water, not hot water, as the latter will strip away the natural oils that protect and nourish your hair.
Make sure you drink plenty of water to help keep your hair and scalp hydrated because if you are dehydrated inside, the after-effects will be clearly visible outside. Make these tips a part of your hair routine as a little extra care can go a long way in maintaining hair health.