bodySCULPT®'s leading plastic surgeon Dr. Christopher Chia will address the prestigious 87th "Plastic Surgery The Meeting being held from September 28 – October 1, 2018 at McCormick Place West, Chicago, Illinois. Dr. Chia will speak on the following topics: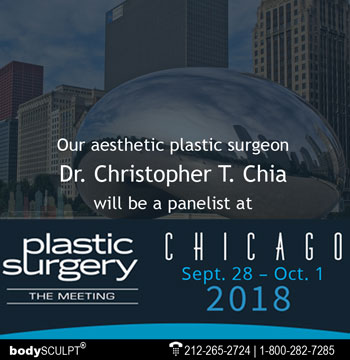 "Technology and Liposuction: Marketing Versus Reality" – 4.30-6.00 pm on Sunday, September 30 (W179AB)
"Advanced Techniques in Liposuction" – 4.30-5.30 pm on Monday, October 1 (W179AB)
The talk on "Technology and Liposuction: Marketing Versus Reality" will cover Traditional SAL – The Gold Standard, advantages of ultrasonic liposuction, VASER, LAP, and other technologies. It is expected to help participants:
Get a clear understanding of the different technologies available to assist liposuction procedures.
Gain knowledge on the safety margins for energy based technologies in liposuction.
Understand recommended energy settings for the different technologies in liposuction.
Learn the indications for the different energy based device in liposuction.
In the session on Advanced Techniques in Liposuction, Dr. Chia will discuss large volume liposuction and combined fat grafting, SAL to secondary areas, knees, calves back rolls and utilization of energy based treatments as adjuncts for liposuctioning. The goal of the discussion is to help participants:
Identify measures to safely perform high volume liposuctioning.
Discuss methods to perform high volume liposuctioning with simultaneous autologous fat grafting.
Outline measures to perform liposuction of atypical areas including thighs, arms, knees, calves, and back rolls.
Discuss energy based adjuncts for liposuctioning and the effect on fat removal and skin laxity.
Plastic Surgery The Meeting brings together the best and the brightest surgeons in the specialty to share their expertise with colleagues who arrive from 73 countries. It is the premier educational and networking event of the year, for both domestic and international plastic surgeons. The conference is intended for plastic surgeons, trainees and other allied health professionals interested in translating their expanding knowledge into practice, improving patient care and outcomes. The Meeting has provided generations of aesthetic and reconstructive plastic surgeons the education they need to grow all aspects of their surgical career and practice.
Dr. Chia has done extensive research in the area of liposuction. Founder and director of bodySCULPT® Dr. Spero Theodorou, and Dr. Chia are experts in performing liposuction using advanced minimally invasive and non-invasive technologies.