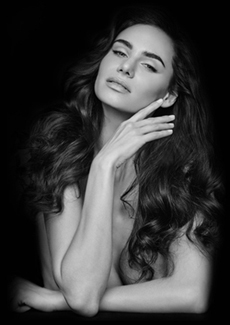 Excess fat accumulation and skin laxity in the face and neck area is caused by factors such as aging, genetics, weight gain and loss, sun exposure and gravity. The good news is that, EmbraceRF in NYC, a new breakthrough facial contouring procedure, can address these issues and rejuvenate the face and neck area. The EmbraceRF procedure was invented by plastic surgeons in NYC with extensive experience in performing radiofrequency-assisted cosmetic procedures.
A neck lift and facelift in NYC are popular options to improve facial aesthetics. However, EmbraceRF is unique because it introduces the concept of "subdermal adipose sculpting" or strategic fat remodeling. This scarless facial contouring procedure allows for precise sculpting of the lower third of the face, especially the neck and jowls. It is an ideal option those who have skin laxity in the lower face and neck with or without underlying fat concerns.
EmbraceRF combines radiofrequency-assisted FaceTite and Morpheus8 – an FDA-approved, Subdermal Adipose Remodeling Device (SARD). It allows the physician to balance the amount of fat removed, molded, and retained and can provide good results for patients in the treatment gap category – those who do not have bad enough skin for a facelift and good enough skin elasticity for liposuction. It is suitable for:
Sideline Patients – All patients who are potential candidates for a facelift, but have not had surgery due to concerns about scarring and general anesthesia.
Facelift Maintenance Patients – Those who have had a previous facelift, but have early recurrence of jowling and neck laxity, and are too early to repeat another facelift.
EmbraceRF works under Radiofrequency-assisted liposuction (RFAL) which utilizes heat to address excess fat deposits in the face and neck. However, in some cases, some of the fat in the face and neck area may need to be preserved to retain a youthful appearance. Depending on the quality of the skin, the aesthetic surgeon can combine EmbraceRF with Morpheus8 externally for adipose remodeling. Depending on the depth of the dermis in different parts of the face, the surgeon can preserve fat and tighten skin or remold the fat into the contours so as to improve definition of the jaw line, jowls and neck, while retaining the fullness necessary to maintain a youthful appearance. This procedure allows the surgeon to determine how much fat should be removed, left behind, or molded for precise sculpting of the face.
When performed by a skilled surgeon, EmbraceRF distinctly improves the jaw line and rejuvenates the neck. The key benefits of the treatment are:
Minimally-invasive, can be performed on an outpatient basis under local anesthesia
Superior facial contouring with natural looking outcomes
Treats both superficial and deep tissues
Improves the jaw line and rejuvenates the neck
Tightens the skin in the neck and jowls
Retains the youthful fullness of the face
Improves skin tone
No incisions or scars
Takes just about 45 minutes to complete the procedure
Reduced treatment time and downtime
Uniform treatment and permanent results
Results are visible immediately and that too with one treatment. The results improves with time over a period of 6 weeks to 6 months
The best place to get EmbraceRF in NYC is in an AAAASF-accredited plastic surgery practice that has surgeons who have the specialized skill required to perform this innovative procedure. Only an expert can utilize these FDA-approved InMode technologies to provide optimal results.