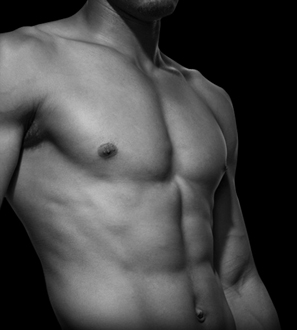 Gynecomastia is one of the most distressing aesthetic concerns men have. This is not just a physical concern but it also has an impact on the individual's social and emotional well being. However, men with this condition can now relax because advanced plastic surgery options such as male breast reduction offered at established plastic surgery practices can successfully address gynecomastia.
One such instance is that of Michael, aired on The Doctors Show last year. For Michael, puberty became a nightmare because he started developing breasts. Other kids began teasing him, calling him a girl and asking him to wear a bra. Michael didn't want to go to schools and became isolated. He tried duct taping his chest; he even used superglue to keep the tape on his skin. The result was blisters, scars, constant pain and trouble breathing. Hoping to make his breasts smaller, he started losing weight and became anorexic dropping to a frightening 90 pounds. This attempt was futile, and was followed by extreme weight gain in order to mask the pain he was experiencing. Now it after more than ten years, Michael was still taping his breasts, using 5 pieces of duct tape. He also wore up to three shirts and a sweatshirt. His condition prevented him from leading a normal life; he couldn't date or even go to a swimming pool. He said he didn't feel like a man at all.
The Doctors Show featured Michael, his mother, and ER physician Dr. Travis Stork and plastic surgeon Dr. Andrew Ordon on the panel. This was a life-changing incident for Michael. After listening to his story, the doctors sent him first to an endocrinologist to study the reasons behind his condition. The endocrinologist Dr. Joseph Pinzone could not find an underlying hormonal cause for the breast growth and determined that Michael has pubertal gynecomastia, i.e. his breast grew during puberty and never went away. The doctors arranged for Michael to undergo minimally invasive gynecomastia correction under Dr. Dennis Hurwitz, a board-certified plastic surgeon and clinical professor at the University of Pittsburgh, close to where Michael lived.
Gynecomastia can occur at any stage in your life and hormonal imbalances, use of certain drugs and some medical conditions could be the reasons for this abnormal enlargement of the male breast. Gynecomastia surgery offered at AAAASF-accredited plastic surgery practices in NYC is helping men achieve a manly physique. bodySCULPT® is one such plastic surgery practice where you can undergo this treatment. This treatment under local anesthesia comes with minimal risks and complications, and reduced downtime. The plastic surgeons here focus on providing their patients with a more natural male chest contour. They use advanced technologies such as BodyTite RFAL (radiofrequency assisted liposuction), and Smartlipo Triplex laser liposuction device to perform the procedure. These techniques ensure effective fat reduction and significant skin contraction. Surgery is performed to improve the appearance and position of the areolas. The latest "Boomerang" technique is offered here for men who have lost significant amount of weight. It is mostly performed as part of comprehensive body contouring surgery since it is more effective that way. In this procedure, a series of opposing elliptical excisions are made to remove excess skin. The procedure ensures tight skin closure to reveal superficial muscular bulk.
For men like Michael, gynecomastia surgery is a great boon as it offers new hope to them to return to a normal life with self confidence and a positive outlook. Just as in any other surgical procedure, a reliable, experienced surgeon is vital in this regard. Patients must follow all the instructions the surgeon provides to enjoy a safe and pleasant body contouring experience and excellent results.