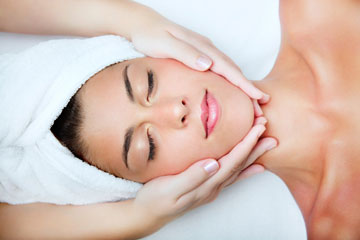 Routine care can keep your skin healthy and glowing without any miracle serums, pricey lasers or trips to the spa. While it's a fact that consistent skin care can enhance the look, feel and overall health of your skin, most of us tend to skip this part of our daily routine, resulting in dull skin. Here are some tips that can address dull and patchy skin and keep your skin looking fresh and glowing:
Cleansing: This should be the first step in your skin care routine. Cleanse your skin every morning and night with a very mild cleanser and make sure that you get rid of dirt, grime and makeup. You can try using natural cleansers such as yogurt, apple cider vinegar or honey. A creamy or milk cleanser will remove dirt and makeup without drying out your skin.
Scrub: Exfoliate your face and body once a week to get rid of dead skin. Use a loofa or sponge to exfoliate, which makes your skin feel smooth and soft and give it an instant glow. A clay-based scrub pack is useful to reduce oiliness on the face. A pack of oatmeal and milk is a great scrub that gently gets rid of pollutant and dead skin cells, without causing loss of essential moisture.
Face Mask: Face masks are the wonderful way to treat skin concerns like dullness, clogged pores or moisture loss. The right face mask can help in hydrating the skin, removing excess oil and impurities, and cleansing it.
Facial massage: This is the most relaxing part of a facial either at a home or professional spa. The motions help tone facial muscles, boost circulation, tighten skin, and promotelymphatic drainage.
Toner: Toners help prevent pimples, shrink the size of pores, and bring the pH level of the face back to normal after washing. Aloe Vera is one of the best natural toners.
Moisturiser: No matter what your skin type is, moisturizing is a must. It can prevent the skin from becoming too dry or oily. If you have oily skin, use a gel-based moisturizer. Natural moisturizers that can be used include honey, Shea butter, avocados, and olive oil.
Sleep: Last but not least, get the required amount of sleep can do wonders. Sleep well can prevent from dark circles, breakouts, and mood swings.
It's important to take good care of your skin as the skin is the largest organ in your body. Try to develop a skin care routine but remember not to overdo care as it can cause inflammation and damage.