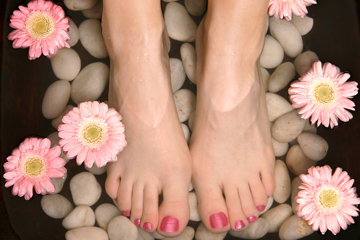 Sandal season is time your feet breathe. This is the prime time for showing off your feet in sandals, strappy shoes, and fun wedges. Winter can leave your feet rough, dry and callused. Here are some tips to get rid of these concerns and flaunt your feet in stylish sandals.
Moisturize to hydrate your feet: The extreme cold weather might have dried out your feet and resulted in dry, rough and chapped skin. To deal with this concern, moisturize your feet daily. Pamper your feet with a rich cream or hydrating oils such as sweet almond oil, sesame oil, shea butter, coconut oil or jojoba oil before bed. Cover your feet with socks to lock in the moisture all night. This will quickly bring back that smooth and soft feel.
Exfoliate to remove dead skin: Remove dead skin from soles and sides of your feet by exfoliating once or twice a week using a pumice stone and file. Removing dead skin will remove the unsightly cracks and instantly improve the health and the appearance of your feet. A natural foot scrub is better for your feet than a commercial scrub. A sugar or salt scrub can help avoid build-up of dead and hardened layers of skin. If mixed with some natural oils such as coconut or olive, the scrub will gently exfoliate and moisturize your feet simultaneously.
Trim and file your nails: Cut your toe nails regularly, but don't cut too short. Avoid ingrown nails by cutting them straight. Use a good quality file across the top of your toe nails until they are smooth.
Soak your feet: Soak your feet in lukewarm water with sea salt and/or olive oil added for around ten minutes. This will help clean and soften your feet, improve circulation, and ease sore and tired muscles.
Brighten the dull and yellow nails: Remove the stain from your nails by rubbing lemon wedges on it for approximately one minute. Avoid applying dark colors to your toenails as it can further stain your nails. More importantly, don't apply polish to unhealthy nails or to cover up discolored nails.
Get a soothing pedicure: If you have no time to pamper your feet at your home, get a salon pedicure.
Pick the right flip-flops or sandals: Use sandals that fit properly and keep you comfortable while walking. The American Podiatric Medical Association (APMA) recommends sandals with a sole that "doesn't twist excessively" and choosing natural materials such as soft leather.
Treat blisters with care: New sandals can cause blisters. To prevent this, use a skin color band-aid on the area where you might get sores. If you get a blister, use gel blister pads that will cushion the area while allowing the blister to heal.
Open-toed sandals or flip-flips look prettier on beautiful, well-groomed feet. So pamper your feet and put your best foot forward this sandal season.