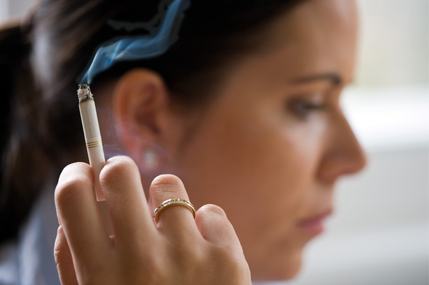 Smoking is the number one cause of preventable death in the US and the world. There are about 4,800 toxic substances in cigarettes, which increases your risk of developing serious diseases such as heart disease and lung disease, along with other health issues like infertility, immune disorders, and arthritis.
In addition to affecting your health, smoking can damage your facial appearance and skin in many ways. Regular smokers are bound to lose that glow on their face at some point of time. The damage is not limited to a few eye wrinkles – it extends to skin cancer, wound infection, and gum disease. Quitting can lead to positive changes in your health, fitness, and risks of heart disease and cancer and also improve skin tone and skin health.
The skin damages that smoking causes ranges from dark circles under the eyes to yellow fingers. Quitting smoking can reverse some of these effects. Changes you can expect to see in your skin when you quit include brighter eyes, tighter skin, a smoother complexion, stainless fingers, and better hair. However, even after they have stopped smoking, some people find that their aging symptoms and skin damage caused by years of smoking continue to persist. Reversing these effects soon after quitting smoking might not be possible, but there are certain ways to minimize their appearance over time.
Watch your diet: The food you eat can impact the appearance of your skin. Eat foods that are rich in vitamins, like broccoli, oranges, and green leafy vegetables. Vitamin A and vitamin C are very important to skin health as they protect the skin from free radicals while supporting collagen development.
Take prescribed daily supplements: If you are not able to get vitamins from your food, take prescribed daily supplements.
Stay hydrated: Make sure your body stays properly hydrated, as this is essential for keeping the skin looking youthful and vibrant. Moreover, a hydrated body can better cope with the skin dryness or dullness, issues common among many ex-smokers. Experts recommend drinking at least 8 eight-ounce glasses of water over the course of a day.
Apply sunscreen: Whenever you step out into the sun, apply sunscreen to safeguard your skin from the ultraviolet (UV) rays. Long-term aggregation of UV exposure can result skin damage, aging symptoms, and skin cancer development. So, to protect your skin from further damage, shield it from the sun.
Maintain a good daily skin care regimen: To rejuvenate and restore your skin maintain a proper skin care regimen. Do a basic CTM routine and exfoliate regularly as this would help your skin appear more vibrant.
In-office treatments: Finally, there are many great cosmetic treatments which can counteract severe skin damage and aging. Long-term smokers may benefits from in-office treatments like Botox, dermal fillers, dermabrasion, and laser skin resurfacing.