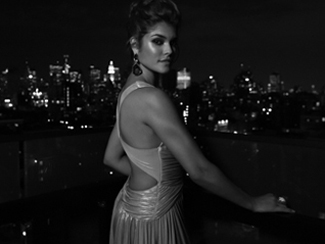 Advancements in technology have made body contouring much easier. Performed using local anesthesia, minimally invasive techniques allow plastic surgeons to provide excellent results with minimal downtime and short recovery. BodyTite is a versatile minimally invasive modality that provides superior results. BodyTite liposuction surgery utilizes patented radiofrequency-assisted liposuction (RFAL) technology to provide safe, gentle, and effective body contouring.
Here are the answers to such frequently asked questions about BodyTite liposuction surgery:
BodyTite is a safe, minimally-invasive cosmetic surgical procedure that offers efficient removal of stubborn fat and cellulite reduction along with noticeable skin tightening effects. The FDA-cleared BodyTite liposuction device uses patented RFAL™ (radiofrequency assisted liposuction) technology. It delivers radiofrequency energy to liquefy subcutaneous fat so that it can be easily removed. It also coagulates the blood vessels, and tightens the skin, while leaving the surrounding tissues unharmed.
What areas can be treated with BodyTite?
BodyTite can remove fat and tighten tissues in the abdomen, flanks (waist), love-handles, breasts (BodyTite Perky Lift), thighs, back, arms (scarless) and knee areas. Leading NYC plastic surgeons Drs. Spero Theodorou and Christopher T. Chia of bodySCULPT in NYC are inventors of BodyTite on Arms, a scarless arm lift procedure.
What type of anesthesia is needed for BodyTite?
BodyTite can be performed under local anesthesia, which means lower risks and faster recovery.
What does the procedure involve?
After marking the area to be treated, the patient will be administered local anesthesia. A tiny incision will be created to insert the BodyTite handpiece into the subcutaneous tissue. RFAL energy passes from an internal cannula to an external electrode, delivering focused energy into the adipose tissue to melt the fat. The handpiece simultaneously aspirates the liquefied fat and coagulates the tissue. The RF energy also stimulates collagen production and tightens the skin. The outcome is a smooth, attractive and natural looking physique.
BodyTite liposuction treats deep fat up to 50 mm, controls heating so that large volume contraction is consistent, avoids over-treatment or under treatment, and allows focused treatment of all large volume areas.
Who is a good candidate for BodyTite?
A good candidate for the BodyTite is generally a healthy person with troublesome areas of excess fat and skin that they would like to get corrected. The best candidates have moderate skin laxity and are within 30% of their ideal weight. The following are not good candidates for this RFAL procedure:
Women who are pregnant or breast-feeding
People with autoimmune diseases
Those with skin diseases and/or infections
Anyone with allergies to certain local anesthetics
What are the benefits of BodyTite liposution?
The advantages of BodyTite over traditional liposuction or other forms of lipo include:
Nonsurgical, minimally invasive procedure
Can remove unwanted and stubborn fat from multiple areas of the body such as the face, neck, chin, upper arms (scarless), abdominal areas, love handles, hips, inner thighs, knees, and buttocks.
Radiofrequency energy tightens the skin quickly and coagulates the tissues to sculpt the body to the ideal shape
Can provide 40% more skin tightening than traditional liposuction treatment.
Allows for considerable fat reduction and effective body firming
Safety features of the device reduce the risk of any thermal or heat injuries
More comfortable than conventional liposuction treatment
Only local anesthesia or light sedation is required
Visible skin tightening through renewed collagen production
No lumpy irregularities because of the precision of the procedure
The procedure usually takes only 30-45 minutes and is virtually painless
Short downtime, reduced bruising and surgical trauma
Quick healing and less scarring
Does not require overnight stay
When can physical activities be resumed after the procedure?
Most people get back to their exercise regimen within two to three weeks of BodyTite. You can start off with walking the next day, doing light stretching within a week, and performing 1/4 to 1/2 intensity workouts in the several weeks thereafter. Once the tenderness and swelling begins to subside, they can progress to their regular workouts. However, the golden rule is: "let your body be your guide with respect to the degree of exertion".
How long is the recovery time and when results can be visible?
Results are patient specific and depend on the treatment area and amount of fat removed. Larger areas will require a longer recovery time. Initial results can be seen immediately after the procedure, with the best results noticeable after 6-12 weeks. However, most patients achieve full recovery in a couple of days.
BodyTite before and after photos here.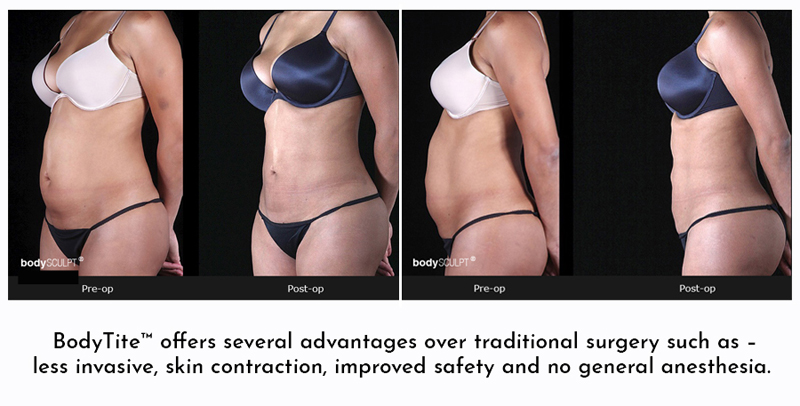 If you want to have BodyTite liposuction in NYC, choose an AAAASF accredited plastic surgery practice with surgeons who are experts in performing the procedure. The success of BodyTite liposuction treatment largely depends on having it performed by a well-trained and experienced plastic surgeon. An expert plastic surgeon will assess your needs and anatomical considerations, and provide customized treatment.