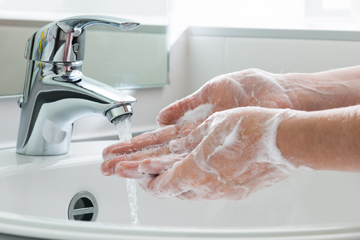 Most people focus on their face and overall body when it comes to taking care of their looks and tend to neglect their hands. Your hands help you to carry out nearly every daily task and bear the brunt of your workload. So there's every reason not to neglect them. Moreover, aging can also impact your hands and make you look older. In fact, hands often age a bit faster than the rest of the body. Other factors that make your hands look older include wrinkles, creped skin, thin skin, dryness, and stained or brittle nails.
The good news is that even if everyday habits and other factors can take a toll on your hands, there are some easy ways to make them look younger.
Be Smart About Washing Your Hands: Hand washing is an important practice, and with the current COVID-19 pandemic, it's more important than ever before. But frequent washing can make your hands drier. To avoid dryness, use a hand soap that locks in moisture.
Wear Gloves: Cleaning agents like soap and hot water can make your hands rough and dry. Hot water and abrasive dish soaps can rob your skin of all the natural oils, causing it become parched and even crack. The perfumes used in dish soaps can also irritate your skin and exacerbate conditions like eczema. To avoid these problems and help keep the moisture in your skin, wear dishwashing gloves every time you clear out the sink, or opt to use the dishwasher.
Moisturize: After every exposure to water, make sure to apply moisturizer on your hands to avoid dryness. Moisturizers have the ability to protect the skin by acting as a defensive barrier when the natural moisturizing oils of the hands are gone. Carry a good hand moisturizer with you so that you can apply it after each wash. It's better to use a cream and not a lotion while choosing a hand moisturizer, as creams are better in avoiding the drying effect and resultant wrinkling.
Wear Sunscreen: Sun exposure causes brown spots and reduces skin thickness, collagen, and elasticity. Use a sunscreen with broad-spectrum SPF 30 or higher whenever you go out in the sun.
Treat age Spots: If you come across with any age spots or brown spots, treat them immediately. Options include skin bleaching agents (that contain hydroquinone), fading or lightening creams (that contain glycolic or kojic acid, vitamin C, licorice, and mushroom extract) or laser therapy, intense pulsed light therapy.
Massaging your hands regularly with olive or coconut oil can improve circulation and keep them supple. Sugar is a natural exfoliator that you can add to the massaging oil. Massage the back of your hands, palms, fingers, cuticles, and nails gently. Practice a good skin care routine and maintain an overall healthy lifestyle to keep your entire body in good shape and your skin glowing and supple.