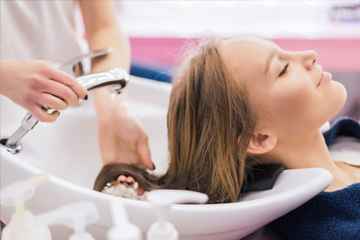 Every woman wants healthy, attractive and shiny hair. However, no matter how much we care for our hair, the natural appearance of our tresses changes in color and texture over time. For instance, appearance of gray or white strands at certain age is completely inevitable. However, sometimes, hair ages prematurely.
Let's check out some effective easy-to-follow natural tips to take care of aging hair that can be followed by everybody:
Wash Less Frequently: Generally, it is believed that washing your hair frequently can cause it to become dry and brittle. So avoid washing your hair often and make sure to wash it in cold water. Washing your hair with very hot water is not a good idea as it would take the moisture out.
Protect Your Hair: As hair ages, its natural lipid layers – the layers of fatty molecules that protect it against excessive damage – decrease. Also, factors such as UV rays, rough brushing, and hot hair tools can leave hair damaged and dull. To protect against such damage, use the right products that protect and preserve it and supplement this layer to keep your hair healthy. To protect your scalp from burning and hair from dehydrating, wear a brimmed hat or cover your hair with a scarf when you're out in the sun.
Moisturize: As you age, hair also loses its natural oils and may look dull. To replenish hair's sheen and natural oils, moisturize your scalp and care to address dryness. Especially after shampooing, don't forget use conditioner, as it is essential for maintaining healthy locks.


One natural way to moisturize your hair is through oiling. Massage your scalp with olive oil and leave it in for 20-30 minutes. Rinse it out with shampoo and condition. Slow massaging helps the oil to penetrate deep into the hair roots and will help to keep your scalp moisturized and improve blood circulation, ensure that your follicles get enough nourishment, and also prevent hair fall. Use a hair and scalp moisturizer with a thick, rich and moisturizing conditioner once or twice a week.

Trim: To address split ends or breakage, hair specialists recommend regular haircuts. Moreover, as your hair thins, it's not a bad idea to cut your hair a bit shorter.
Keep an Eye on your Diet: Just as for a healthy body, eating the right foods is important for healthy tresses too. What you eat is crucial when it comes to gloss, growth, and volume. Make sure to ensure a diet rich in iron, zinc, Omega-3 fatty acids, and protein, as it stimulates hair follicles for growth. While protein is the building block of hair, iron is the energy source and its deficiency is often linked to hair loss. However, if you cannot get enough nutrition in your regular diet, opt for nutrition supplements such as biotin and other essential vitamins (B complex, C, E, etc.) to meet the deficiency.
Avoid Unnecessary Hair Styling and Chemical Treatments: Make sure you limit your use of chemical hair treatments (coloring, straitening and so on) as it makes your hair become drier. Also, don't use tools like hair dryers and curling irons as the heat can dry out your hair and scalp, increasing the risk of hair damage.
Choose Hair Products Wisely: When it comes to anti-aging hair care, make sure you choose the right hair products. Choose shampoos and conditioners that hydrate and moisturize your hair as well as add shine and vibrance. You can also find products that are infused with natural oils such as coconut oil, argan oil, almond oil, olive oil, borage seed oil, and so on, as well as proteins, vitamins, and minerals. Steer clear of sulfate and paraben products.
Though we can't stop the aging of our hair, it is possible to prevent premature aging by following these natural tips.