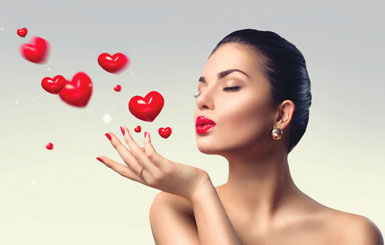 Valentine's Day is around the corner and you are likely making plans to look your best to impress your partner. But as you plan for that perfect evening, are you also paying attention to your skin? This is very important if you want to look radiant Here are 8 tips that can help you get glowing skin in time for Valentine's day.
Maintain a basic skin care routine: This is very important tip that you should follow without fail. A basic skin care routine consists of three steps: cleansing, toning and moisturizing (CTM). Following the basics can help prevent many skin conditions and will keep your skin looking clean and fresh.
Regular moisturizing is a must: The key to glowing and healthy skin is moisturizing. Apply moisturizer to damp skin for better penetration and hydration. If you have dry skin, look for a water-based moisturizer for a boost of hydration, and apply it after cleansing morning and night.
Don't forget to scrub: The skin tends to get dull over the time and to overcome that, exfoliate. Depending on your skin type, exfoliate your skin once a week to get rid of inflammation and blemishes. Exfoliation will buff away the dead skin cells and also encourage new cell growth that helps to give your skin that extra glow. You can avoid side effects by using natural products such as coffee, oats, sugar, salt and so on as scrubs. Don't scrub your face at night, as this can make your skin extra prone to tanning the next day.
Drink more water: Keep your skin hydrated by drinking at least 6-7 glasses of water a day. This will help prevent inflammation and blemishes and also provide other necessary nutrients such as oxygen to the cells. Following this skin care tip is helpful not just for V-day, but in the long run too, as it will prevent premature aging.
Apply a face mask once a week: Applying a face mask made of natural products can renew lackluster winter skin and make it glow. Choose a face pack that is suited for your skin type.
Apply sunscreen: Whenever you step out, do make sure you apply a good sunscreen as exposure to sunlight increases risks of skin damage.
Use a Vitamin C serum: Serum is a skincare product that delivers powerful ingredients directly into the skin and targets specific skincare concerns like wrinkles, dark spots, dry skin or pigmentation. Vitamin C serum contains citric acid which improves the blood circulation, detoxifies the skin, evens the skin tone, and even reduces the melanin component in your skin. Choose a serum that will give your skin all the pampering it needs.
Get enough sleep: Getting adequate sleep is important to skin health. When you sleep, the body works to remove dead blood cells and produce new blood cells. Getting sufficient sleep is important to prevent dark circles, breakouts, and mood swings.
Happy Valentine's Day!