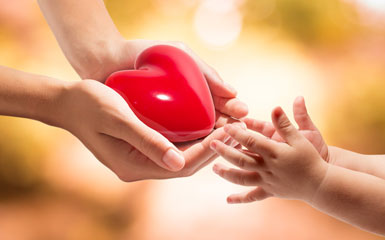 Heart disease is one of the leading causes of death in men and women in the United Sates. According to the Centers for Disease Control and Prevention (CDC), every year, 1 in 4 deaths are caused by heart disease. To raise awareness about the condition, how to improve heart health, and reduce the risks of the condition, February is celebrated as American Heart Month. This national observance is an annual celebration that began in 1964, and urges Americans to join the battle against heart disease.
It's very important to educate people that heart disease is the leading cause of death and with proper care it is largely preventable too. This February, the National Heart, Lung, and Blood Institute (NHLBI) is encouraging people across the country to reduce their risk for heart disease. For that they organized a National Wear Red Day on February 1, where millions of people across the state and the nation donned red attire and showed their support of the American Heart Association's mission to saves lives from the nation's No. 1 killer.
A healthy lifestyle that includes regular physical activity, smart eating, maintaining a good weight, and not smoking, can substantially lower your risk of heart disease and stroke. The NHLBI this year's theme for American Heart Month is "Our Hearts are Healthier Together" – encourages Americans to join with others to make lifestyle changes that are heart-healthy and long-lasting. They are also encouraging everyone to use #OurHearts on social media to share what you and your friends, family, and coworkers are doing to get heart healthy together. Research has shown that having strong social support can make it easier to stay motivated and reach your fitness and nutrition goals.
Most people think that heart disease happens just to older adults, but the fact is that younger adults can also develop this condition. According to the CDC, one of the major reasons for this is the high rates of obesity and high blood pressure among younger people (ages 35-64) that put them at risk for heart disease earlier in life. Half of all Americans have at least one of the top three risk factors for heart disease (high blood pressure, high cholesterol, and smoking).
Nearly 1 in 3 adults in the United States has high blood cholesterol, a major risk factor for heart disease and stroke. High blood cholesterol can be hard to detect, as it often shows no signs or symptoms (www.cdc.gov). This year on American Heart Month, CDC urges to speak on the topic "Let's Talk about Cholesterol".
High cholesterol increases your risk of heart disease and heart attacks. Even if medications can help improve your cholesterol levels, it's better to prevent getting cholesterol by making some healthy lifestyle changes. The top five lifestyle changes include:
Eat healthy foods: Diet plays an important role in lowering your cholesterol and protecting your heart. Eat foods that help keep your cholesterol levels low. Avoid saturated fat and trans fat which tend to raise the cholesterol levels. Include soya foods, soluble fiber foods like oats and barley, lots of fruits and vegetables, and foods that have plant sterols/stanols. Plant sterols/stanols are naturally found in a wide range of foods such as vegetable oils, nuts, seeds, whole grains, fruits and vegetables.
Exercise and increase your physical activity: Exercise can help lower cholesterol. Any activity is helpful – even taking the stairs instead of the elevator or doing a few sit-ups while watching television can make a difference. Moderate physical activity can help raise HDL or "good" cholesterol levels.
Quit smoking: If you smoke, stop immediately. Quitting could improve your HDL cholesterol levels. It is reported that your blood pressure and heart rate would decrease 20 minutes after quitting, and that the risk of heart disease would be half that of a smoker within one year.
Alcohol consumption only in moderation: Too much consumption of alcohol can lead to serious health problems, including high blood pressure, heart failure and strokes. So, consume alcohol in moderation.
Lose weight: Being overweight or obese raises your cholesterol levels. So, lose your weight. Look for ways to incorporate more activity into your daily routine, such as using the stairs instead of taking the elevator or parking farther from your office. Take walks during breaks at work. Try to increase standing activities, such as cooking or doing yard work (www.mayoclinic.org).
This year, take an oath to educate yourself and talk with your loved ones about how to improve heart health and reduce the risks of the condition.