Though everybody wants clear, healthy skin, we all know that most men don't have a proper skin care regimen. Taking care of the skin is just as important for men as getting to the gym regularly along with eating right and getting plenty of sleep. Proper skincare can prevent zits, wrinkles and greasy skin.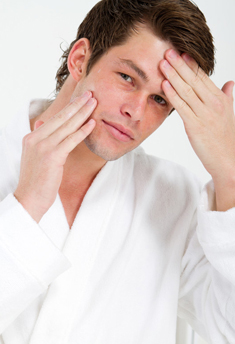 While every man's skin is unique, in general, male skin – on both the face and the body – is thicker and oilier, and ages differently. The basic differences between the skin of men and women relate to collagen density, texture and hydration, which is why men's skincare products are manufactured differently as compared to similar products for women.
Not blessed with healthy skin. However, taking certain conscious measures can make your skin look and feel better and improve your confidence. Following these tips would help men get healthier skin:
Cleansing: This is the first step towards skincare. Cleansing keeps your skin looking fresh by unclogging the pores. According to dermatologists, cleansing your skin at least twice in a day is absolutely necessary. Avoid using harsh products such as soaps to cleanse your face as it can cause dryness. Use a gentle cleanser to remove all the dirt and oil that may have accumulated during the day.
Moisturizing: A good facial moisturizer rejuvenates tired skin and deeply hydrates it. It's believed that moisturizer can return the lost glow of your face instantly after you apply it. But choose your product according to your skin type. Try to choose a moisturizer that is rich in antioxidants as this will help protect against free radicals and environmental damage. A cream or a gel based moisturizer would help lock in moisture throughout the day.
Avoid acne triggering products: While choosing your cosmetic products, make sure not to choose those that would make your face oily. Acne can be a problem for both women and men. Regardless of your age, zits happen and it's something that many men carry well into their adult life. This is mainly because men have, on average, slightly more oily skin (than women) as testosterone stimulates sebum production in the hair follicles. Both their sebaceous glands and their pores are larger than those of women and prone to impurities and acne.
Exfoliate: Gentle exfoliation will remove the dead skin cells and give your skin a fresher and smoother appearance. Deep exfoliation once every 3 days using salt or other natural coarse ingredients can impart a healthy glow to the face.
Use a proper razor: Choose your razor carefully, Buy one that fits your skin sensitivity and beard coarseness. A quality razor can go a long way into preventing bumps. When you shave, make sure that you slather a moisturizing shaving gel to protect your skin. The ideal time to shave is after a warm shower, as it help to open up your pores and the hair tends to be softer at this time.
Aftershave is important: Applying a good after shave soothes, hydrates and seals in your skin after a nice shave with a quality razor. Make sure it's alcohol-free. If you have a sensitive skin, avoid an aftershave and use a light, oil-free moisturizer while the skin is still damp.
Don't forget sunscreen: One of the most common causes of wrinkles and premature aging is sun exposure and damage. So never forget to use a sunscreen before going outdoors. Applying a moisturizer with SPF every morning would help to keep your skin both hydrated and protected.
A good night's sleep: Make sure that you get at least eight hours of undisturbed sleep every night. A good night sleep will rejuvenate both your body and your skin..