With winter approaching, you need to take extra care of our skin. Mostly, women take special care of their face and neck, and tend to neglect other parts of their body, especially the hands. Many women have concerns such as rough, cracked and dry hands, which make them feel uncomfortable and embarrassed. This is mainly because the skin is exposed to harsh elements on a daily basis, from sun and wind to harsh chemicals and drying soaps. The hands are particularly prone to dryness and cracking, especially in the winter months when your skin becomes more stressed and hardened from the dry, cold air. Other factors such as medical skin conditions, allergens, and certain medications can also contribute to dry, cracking skin.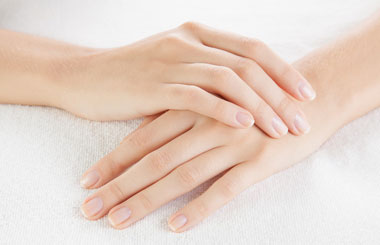 So, while taking care of your face, it's equally important to give attention to your hands also. A softer pair of hands can contribute to your overall attractiveness, give you confidence and even make you feel good about yourself.
Follow certain tips to make your hands look and feel softer and smoother.
Avoid certain things: Avoid exposure to dry air, excessive hand washing, and overuse of chemicals and soap, as these factors can all contribute to a damaged, compromised outer skin layer. Dry air which occurs during dry climates and in the cold climates, can drain moisture from the skin, and result in dry, and rough hands. So, try to protect your hands from dry air. It is also found that people who handle chemicals and harsh soaps daily have severely chapped hands. This is because the harmful chemicals drain the moisture from the skin and bring damage to the outer layer of the skin. Similarly, people who consistently have to wash their hands or immerse their hands in water experience loss of moisture, as the water steals away the skin's natural moisturizing oils.

Avoid formulas with synthetic fragrances, preservatives, and sulfates and choose moisturizing cleansers instead and be sure you rinse thoroughly.

Moisturize: Always remember to moisturize your hands to avoid dryness. Carry a good moisturizer with you so that you can apply it after each wash. A moisturizer does wonders to the hands as it has the ability to protect the skin by acting as a defensive barrier when the natural moisturizing oils of the hands are gone. It is best to go for a moisturizer that is intended for the hands, because they are different from normal moisturizers. Hand creams are much thicker and you can get a lot of nutrients that you need in order to make your hands soft and smooth.
Exfoliate: Similar to face care, it's important to exfoliate your hands once ina while, to remove dead skin cells.You can exfoliate your hands with a pumice stone after bathing or use a natural scrub such as olive oil and sugar mixture. Apply this mixture on your hands and rub both the front and back of your hands to loosen up that dry, dull skin. Use this scrub 1-4 times a week depending on your skin's texture, and always apply a moisturizing lotion immediately after exfoliating, so that your skin feels soft.
Wear gloves: Using gloves is an effortless method and a life-saver for your hands, as it can protect your hands from damage and keep them soft and smooth. Use gloves while you're out gardening, or when washing the dishes. Not to worry if you don't have gloves – you can make use of your socks. If you have damaged hands and need serious moisturizing, apply a super thick moisturizer on your hands and put on some cotton gloves or wool socks and go to bed for deep treatment.
Use pure aloe: If you don't want to buy a market-based moisturizer, you can invest in a pure aloe vera gel. This natural substance is a miracle worker when it comes to providing moisture.
Abrasive hand wash: To keep germs at bay, wash your hands with germ-killing antiseptic hand wash. But while regularly doing this, the liquid will drain your hands of the much needed moisture. So, to avoid such issues, choose a moisturizing hand wash and try to wash your hands with warm water as often as you can. Remember to pat your hands dry instead of rubbing them with a hand-towel.
Use natural ingredients: You can try certain homemade hand masks or can have an oat meal bath on a regular basis to prevent rough and dry skin. Oatmeal works as a natural cleanser and exfoliant because of its protein content that helps you hold the water and oils in your skin, making them softer and well-moisturized. You can also use combinations of these natural products such as olive oil, coconut oil, honey, almond oil, and curd on your hands.