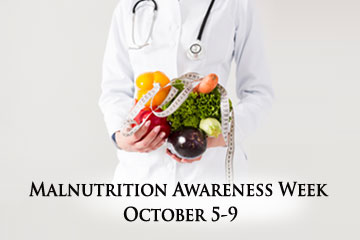 According to the World Health Organization (WHO), malnutrition refers to "the deficiencies, excesses, or imbalances of a person's energy or nutrients intake". Malnutiriton results from having a diet that does not contain a sufficient amount of healthy nutrients.
The American Society for Parenteral and Enteral Nutrition (ASPEN) sponsors to raise malnutrition awareness and its adverse effects on individuals and health care costs. Each year, Malnutrition Awareness Week takes place from October 5 to October 9. It is an annual, multi-organizational campaign created by ASPEN to:
Educate healthcare providers about early detection and treatment of malnutrition
Educate patients about the importance of discussing their nutritional status with the healthcare providers
Raise awareness about the role of nutrition on patient's recovery
Types of Malnutrition
There are two types of malnutrition:
Undernutrition: Undernutrition is when a person does not get enough growth nutrients. It manifests as low height for age (stunting), low weight for height (wasting), low weight for age (underweight), and micronutrient deficiencies (a lack of essential vitamins and minerals).

Symptoms

People with malnutrition have one or more of these symptoms:

Fatigue
Weight loss
A swollen stomach
Difficult to concentrate
Irritability
Depression and anxiety
Dry hair and skin


Some types of undernutrition have significant effects. They are:

Marasmus: This occurs when body tissues and fat degenerate at an alarming rate to compensate for nutrient deficiencies. As a result, the body's internal process and the immune system's activity slow down very fast.
Kwashiorkor: This is a severe protein deficiency that causes fluid retention and swollen abdomen. As a result, under-nourished children may look plump.
Marasmus-kwashiorkor: This is characterized by severe wasting along with fluid retention.

Overnutrition: In this form of malnutrition, nutrient intake exceeds the amount required for normal growth. It occurs due to the over-consumption of fast and processed foods that contains high calories and fat but low in other nutrients. Overnutrition can result in obesity and diet-related non-communicable diseases like heart disease, stroke, cancer, and diabetes. A study of 17,000 adults and children showed that those who had fast food had significantly lower intakes of Vitamin A and Vitamin C and higher calorie, fat, and sodium consumption than those who didn't have this type of food.

Symptoms:

Overweight or Obese
Heart problems
Type 2 diabetes
Hair loss
Difficulty in walking
Bleeding
Diarrhea
High blood pressure
Both of undernutrition and overnutrition can lead to health problems if not addressed.
Preventing Malnutrition
Dietray changes are the primary treatment for malnutrition. As we observe Malnutrition Awareness Week, here are some ways to prevent malnutrition:
Eating a healthy and balanced diet with plenty of fruits, vegetables, protein-rich foods, and starchy foods.
Eating "fortified" foods that contain extra nutrients
Eating healthy snacks
Taking extra nutrients in the form of supplements
This October, organizations across the U.S. will join the fight against malnutrition by becoming an ambassador to raise awareness about the consequences of malnutrition and learning how to intervene.