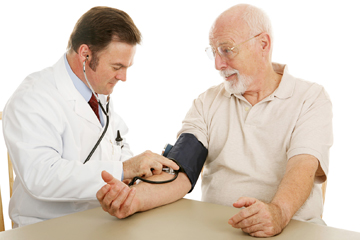 June is Men's Health Month and Men's Health Week runs from June 10-June 16, 2019. The purpose of this observance is to heighten the awareness of preventable health problems and promote early detection and treatment of disease among men and boys. Wear Blue Day on Friday, June 14 is a part of the year-round Wear BLUE awareness campaign that was created by the Men's Health Network to raise awareness and money for education about men's need to seek regular checkups, or testicular cancer education, prostate cancer education, or other health issues (such as cardiovascular disease, skin cancer, lung cancer, diabetes, gout, and more) that affect men.
Men's Health Month encourages men to take control of their health and families to teach young boys healthy habits throughout childhood. This is important because according to the Centers for Disease Control and Prevention, on average, men in the U.S. die 5 years earlier than women and die at higher rates from nine of the top 10 leading causes of death.
Making some important decisions and lifestyle changes can help every man to live a longer and healthier life. Here are some key practices that can rejuvenate your life:
Control your weight: Excessive weight can lead to obesity and other illnesses. So make an effort to stay within your ideal weight.
Quit smoking: Smoking is estimated to kill 400,000 Americans every year. Quitting will reduce your risk of developing many chronic disorders, including the buildup of fatty substances in the arteries which can cause coronary heart disease and stroke.
Moderate alcohol consumption: Excessive drinking is one of the major causes of both physical disease and social tragedy. keep an eye on your drinking habits and make a resolution to drink only in moderation.
Follow an exercise routine: Besides raising your general mood and reducing the risk for depression, working out minimizes the risk of several medical conditions. Regular exercise keeps you fit physically and comes with emotional benefits, too.
Maintain a healthy and nutritious diet: Make sure that a healthy and balanced diet complements your regular workout. Include more good fats and good carbs in your diet. Vitamins and minerals plays a major role in a man's overall health providing benefits such as better muscle strength, faster metabolism and fat loss, more energy, better sleep and protection against health problems like a heart attack, colon or prostate cancer. The most important and best vitamins for men include Vitamin D, Vitamin B12, Anti-oxidants vitamins (Vit A, C, E), Vit K, Magnesium, Iron, Omega-3 Fish Oils, and Potassium.
Get regular checkups:Like women, men need to get regular checkups such as diabetes, cholesterol and blood pressure tests. It's also important to get a Prostate Check – over 160,000 men are diagnosed with prostate cancer each year, and about 30,000 die from it, according to the Prostrate Health Guide.Getting timely check-ups and screenings is crucial for early detection and treatment to stay healthy.
Have regular glaucoma screenings: Glaucoma is a major cause of blindness. It doesn't produce visual symptoms and its occurrence is not so rare. Getting regular checkups will help identify its occurrence before it causes serious damage and also identify other eye problems such as macular degeneration.
Relax: Set aside some time to relax every day. Hobbies can improve mood and calm your mind. Activities like yoga and meditation can reduce stress.
Get a good night sleep: Get at least 7 hours of good night's sleep to stay healthy and rejuvenate your body and mind.
Men's Health Week gives health care providers, public policy makers, the media, and all individuals the opportunity to encourage men and boys to seek regular medical advice and early treatment for disease and injury. We must remember that men's health is a family issue. As former Democratic congressman Bill Richardson said, "Recognizing and preventing men's health problems is not just a man's issue. Because of its impact on wives, mothers, daughters, and sisters, men's health is truly a family issue."