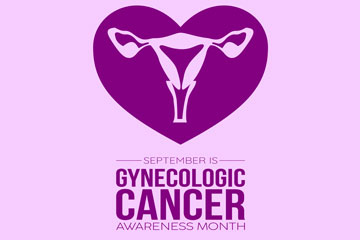 Gynecological cancer is a form of cancer that affects the female reproductive system – including the cervix, ovaries, fallopian tubes, uterus, vulva, and vagina. September is observed as "Gynecological Cancer Awareness Month" in the United States. Sponsored by the Foundation for Women's Cancer (FWC), the campaign aims to raise awareness about different types of gynecologic cancers, and how they affect women across the globe.
According to the Centers for Disease Control and Prevention (CDC), approximately 89,000 women in the United States are diagnosed with gynecologic cancer, and that the disease causes over 29,000 deaths each year. Every woman is at risk of this cancer, and these risks increase with age. It is estimated that every five minutes, someone will be diagnosed with one of these cancers and over 33,000 will die from a gynecologic cancer this year.
Some cancers have early signs and symptoms, but ovarian cancer does not. It's important that women recognize warning signs and learn if there is anything they can do to reduce their risks. Treatment depends on several factors like – the stage and type of cancer and other health problems. The 2022 Gynecologic Cancer Month campaign aims to share knowledge about gynecologic cancer symptoms, risk factors, prevention and early detection, and to encourage research to find a cure and eliminate the disease.
Each type of gynecologic cancer is unique with different signs and symptoms, risk factors and prevention strategies. Age, obesity, family history, and HPV are important risk factors for gynecologic cancer. Other factors that can cause this type of cancer – smoking, obesity, a weakened immune system, diabetes, history of sexual activity and long-term use of oral contraceptives, among others. Symptoms include – pelvic pain or pressure that doesn't go away, feeling too full (even when eating just a little), unusual vaginal bleeding, longer or heavier periods than usual, unusual discharge from the vagina, pain during sex, lower back pain and pain or swelling in the legs.
Treatment for gynecologic cancer comprises a combination of one or more modalities – chemotherapy, radiation and surgery. Patients often undergo more than one kind of treatment.
As all women are at risk for developing a gynecologic cancer, it's important that they have a clear understanding about the disease and how to prevent or reduce the risk of developing the condition. Although there is no guaranteed way to prevent gynecologic cancer, here are strategies to reduce your risk –
Protect yourself against HPV – Human papilloma virus (also known as HPV) infections – a very common sexually transmitted infection – are the main causes of cervical, vaginal and vulvar cancers. The HPV vaccine protects against the types of HPV. Discuss with your physician about getting the HPV test and ask about the HPV vaccine which protects against the types of HPV that most often cause these cancers. Also, limit the number of sexual partners and use a condom when having sex.
Get Screened – The Pap smear or Pap test can help detect abnormal cell changes in the cervix that may become cervical cancer if they not treated appropriately. In addition, an HPV test can be performed to check for HPV infection. It is used for screening women aged 30 years and older.
Recognize the Warning Symptoms – Most gynecologic cancers do not cause signs and symptoms early on. Since there is no reliable way to screen for any gynecologic cancers (except cervical cancer), it is especially important to recognize warning signs and learn if there are things you can do to reduce your risk. Check for warning signs like – abnormal vaginal bleeding or discharge, pelvic pain or pressure, changes in bathroom habits (increased urination, constipation, and diarrhea) and itching or burning of the vulva and contact the physician immediately.
Quit Smoking – Smoking increases the risk of different cancers – including cervical, ovarian, vaginal, and vulvar cancers. It also damages nearly every organ and organ system in your body. Quitting reduces your risk, even if you've smoked for years.
Make Healthy Choices – Maintain a healthy lifestyle. Stay physically active and eat a healthy diet (consisting of fruit, vegetables, lean proteins and whole grains). This can help reduce your risk of developing a gynecologic cancer in the long run.
Share Your Family History with Your Doctor – It is estimated that about 5 to 10 percent of all cancers are hereditary. Inform your physician if you have a personal or family history of cancer or certain diseases.
As part of the Gynecological Cancer Awareness campaign a wide variety of programs and activities will be held across the United States. These include hosting screenings and hosting community events (such as walks/runs, education and fundraising events), distributing banners and posters, and sharing information about these types of cancer on various social media platforms.
Join the Movement led by the Foundation for Women's Cancer by registering on <a href="http://">Move4Her.