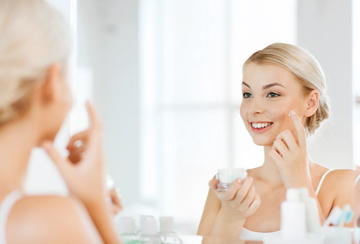 Spring season is the season of happiness. Your skin might face many challenges like dry skin, cracked lips and so forth during winter. In other words, winter is the testing time for your skin. However, the spring season is the prefect time for restoring the health of your skin. To bring back the nourishment of your skin, you have to follow certain tips. In this blog, you will come across certain tips that help you to bring back the health of your skin.
Spring Tips for Skincare
Exfoliate is the process of giving rebirth to your skin. It is the process of removing the dead cells from the surface of the skin and turns your skin glow. You can perform certain activities like hot bath, full-body scrubbing for shedding your dead cells and thereby rejuvenates your skin. This scrub would help you to remove rough patches from the knees, elbows, feet, hands and back. You can exfoliate once in every week for best result. However, don't overdo the process as it would affect your skin badly.
Drink right quantity of water is very crucial for maintaining the health of the skin. Dehydration may pave way for skin dryness and flanks. By maintaining sufficient amount of water may reduce acne, pimple, wrinkle as well as other skin issues. In addition, it also accelerates the healing process for the skin problems due to sun damage. It also helps to balance the PH level of your skin. By consuming sufficient amount of water would enhance the glow as well as complexion of your skin. According to National Academies for Sciences, ideal intake of water for men is approx 3.7L and women is 2.7L on a daily basis.
Guard your skin with Sunscreen
Sun wakes up from sleep during spring season. As a result, the brightness of the sun also increases considerably. It might paves way to the over exposure of skin to hazardous UV rays. Thus, it is better to protect your skin with sunscreen while stepping out. Always remember to choose sunscreen with correct SPF content as it helps to nourish your skin and maintain its natural tone. Approach a dermatologist to know the exact amount of SPF you need to apply.
Including fresh seasonal fruits and vegetables in your diet chart is as important as maintaining hydration. They are the store house of nutrients and vitamins. The water content in fruits and vegetables would helps to maintain the elasticity as well as fight against aging. The items like lettuce, broccoli, grapefruit, carrots, apples, watermelon and fruits containing citrus acid act as a guard for maintaining the health of your skin.
Physical activities accelerate the normal functioning of your body. You can perform various activities like exercise/workouts, walking, swimming and so on helps to maintain the oxygen supply to the skin cells. This in turn would help in enhancing the glow of your skin. You can even practice yoga at your home, which has the same impact as exercise has.
Today, large group of people are conscious about the health of the skin. Thus, they run behind the different types of body as well as facial creams to maintain the health of your skin. However, always remember that, all creams are not prefect for your skin. It is better to consult a dermatologist to know which cosmetic cream is suitable for your skin before going ahead by buying that product. In addition, while buying such creams, you should consider certain factors like quality, manufacture as well as expire date, brand, and so on before you end up in purchasing one.
Skin is the largest organ as well as act as a protection shield to our body. Thus, giving utmost care to our skin is necessary irrespective of season. So, take good care of your skin and maintain the health and glow of your skin.