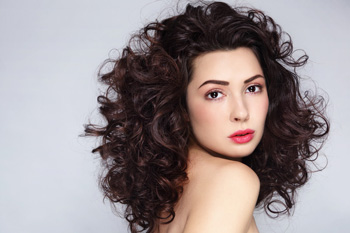 It can be quite tiring to manage curly hair because of all the twists and turns. Curly hair can be fragile and delicate as the natural oils produced by the scalp to soften and protect strands might struggle to travel from top to bottom. Curly hair can easily lose moisture and become dehydrated. Curly hair can also get affected in humid climate and develop split ends too. To cope with all these issues, curly hair needs more care than straight locks. With a little effort, one can transform kinky and frizzy hair into gorgeous tresses.
Here are some expert tips to care for curly hair:
Avoid daily shampooing: It's not necessary to wash your hair every day, especially if it's curly. Curly hair is prone to becoming dry and regular washing can dry it out. Though it's necessary to clean the scalp, it's important to avoid excessive shampooing because detergents in shampoos can dry out the scalp. While selecting shampoos make sure to use products that are specially meant for curly hair, and products that are sulfate and alcohol free. Always use cold water to wash your hair as it can snap the cuticles shut, which in turn will lock in moisture, make your hair shinier, and reduce frizz.
Moisturize: Deep conditioning is a must after shampooing to lock in moisturize. Conditioner that contains keratin will work for such hair types. If you need conditioning before showering, do a hot oil massage. Coconut oil, olive oil and almond oil are a few options to try out. An oil massage can condition your curls and also repair your hair, making it more smooth, manageable and easy to detangle.
Take care while drying your hair: For gently drying your hair, use a microfiber towel or cotton T-shirt. Apply some leave-in conditioner on damp hair and let your hair air dry. Try to avoid a blow drying as it can rob the hair of moisture. If you do need to blow dry your curls, use a diffuser. While drying don't move your fingers through your curls or else they will frizz up.
Use a satin pillowcase: Your bed is a place that can make or break your curls. Use a satin pillowcase or one made of silk or polyester. Putting your hair in satin scarf can help keep it moisturized and prevent the ends from breaking off. Avoid cotton pillowcases as they cause too much friction and can seriously damage your curls and cause breakage.
Use a hair mask: A hair mask can work wonders in repairing your hair, preventing it from getting damaged, and maintaining the definition of your curls. You can make a natural hair mask at home using ingredients such as eggs, bananas, avocados and so on.
Avoid snags: Detangle you curly hair in the shower before rinsing out the conditioner as it makes easy to style. This will also help prevent breakage.
Use appropriate styling products and combs: Don't use hair brushes as it can mess your curls and can make them frizzy. Instead, use a wide-toothed comb. It will eliminate all those problems and can make your detangling process pain-free. Try to use as less as possible of artificial styling products such as serum, mouse, gel or leave-in conditioner.