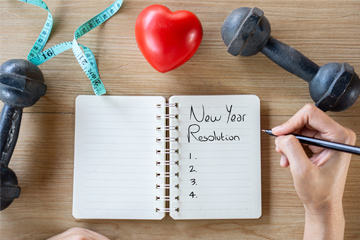 New Year Resolutions are one of the most common terms that you will hear at the end of the year. People set various goals for the New Year like weight loss, a new diet or fitness routine, improving sleep habits, saving money, or getting more organized in the office or at home. Fitness is one of the most common resolutions for U.S. adults. If you are among the growing number of fitness freaks and planning fitness resolutions in the New Year, there are certain things to keep in mind.
Plan Properly

You should have a proper workout plan. Prepare a chart for doing workouts efficiently. Include time as well as the type of exercise you are planning to do. Consider hiring a personal trainer and finding a workout buddy before starting out.

Stick to Your Workout Schedule

People usually have the tendency to skip workouts and exercise after the initial few days. Take a firm decision not to skip your workouts as far as possible. Exercising regularly will help you stay fit throughout the year. However, remember that you can skip your regular exercise if you feel tired or sleep-deprived.

Break Unhealthy Habits

Resolve to shun unhealthy practices like smoking and excessive drinking. This needs will power and motivation. Get professional help if you need to.

Plan a Healthy Diet

Plan a healthy diet – include nutrient-rich items like vegetables, fruits, grains, proteins, dairy, nuts, and so on. Remove unnecessary fats, sugars, and carbs from your diet. Find healthy and tasteful recipes.

Set a goal for reducing body fat

Fat tends to build up in various areas of the body like the tummy, arms, thighs, and so on. Excess fat is usually the result of an unhealthy lifestyle. Plan a proper diet and exercise regimen to lose unwanted fat. If you are looking to achieve a well-shaped body, there are many effective noninvasive and minimally invasive aesthetic treatments to remove stubborn fat.

Experiment

Try new things. There are many kinds of exercises, so don't stick to the usual ones for a long time. Trying new techniques from time to time will make your workout session more interesting. At the same time, try to stick to one goal at a time till you achieve it. For instance, if your goal is to reduce body fat, then work out till you achieve that goal. Don't try to push other goals into the picture.

Skip Fast Food

When you're grabbing a quick bite, you hardly think about its nutritional value. However, that's what you should do. Burgers, sandwiches, and other fast food items are usually high in high in sugar, salt, and saturated fats, as well as many processed preservatives and ingredients. Moreover, we tend to have them with extra toppings of cheese and sauces. To find healthful choices, consider checking out the nutritional content of fast food items which is available on the websites of most major restaurants. But the best thing is to cut down on fast food.
Many people follow resolutions stick to their New Year resolutions only for a short periods. Here are some tips for sticking to your resolutions:
Mentally prepare for changes
Set realistic goals
Don't make too many resolutions
Try to break up larger goals into smaller ones
Write down the goals you want to achieve
Review the list once in a month
If you go off the track, try to catch up quickly
Have a happy and healthy New Year!