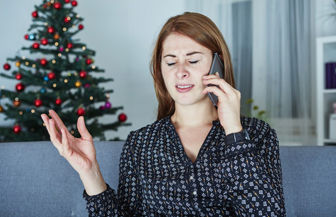 Christmas is the time year that everybody looks forward to. It is an exciting and happy time when you get together with friends and family. However, the holiday season can also be very stressful. There are so many things to do but not enough time. All the cooking, decorating, visiting, gift giving, last minute shopping, and societal and family expectations can all combine to weaken our mind and lead to stress.
Stress can have adverse effects on the body if left unchecked. It can impact our thoughts, feelings, and behaviors, leading to high blood pressure, heart disease, diabetes, and obesity. According to a recent article in Medical News Today, research has shown that there was an increase in the incidence of heart attacks and heart-related deaths during the festive season due to stress, heavy alcohol consumption, a fatty diet, or all three. Going by some simple tips can help you handle the stress levels effectively:
Keep your spending in check: Money issues are one of the main reasons for stress. This was clearly evident in the Annual Stress in America survey conducted by American Psychological Association (APA) in 2004. The survey found that 62 percent of people feel stressed about money. The key to tackling this concern is to plan your spending well:

Set a budget so that you are organized and realistic about your funds; it will help you to ensure that you do not overspend.
Making too many financial decisions at a time can be difficult, weaken your willpower, and lead to overspending.
To avoid temptation when shopping, take only the cash you can afford to spend; leave your credit/debit cards at home, and limit the time you spend in shopping malls.

Have realistic expectations: Try to manage your expectations-no event ever runs seamlessly. If mishaps happen, be positive and consider it as an opportunity to exercise flexibility and resilience.
Don't overeat: As it is the festive season, you will be surrounded with lots of food and beverages. Excessive stress can increase your craving for unhealthy foods such as sugary, fatty foods and chronic drinking which is harmful for your health. According to the National Institute of Health, the average American gains less than one pound between Thanksgiving and Christmas. However, most people never lose that one pound and over the years, this can contribute to obesity. To avoid overindulgence in food you need to :

Eat high-protein snacks during the day. This could help you to feel full till it is dinner time.
Choosing brown bread over white can help you to feel fuller for a long time.
Limit portion sizes.

By physically active: Regular exercise can decrease your tension and boost and stabilize your mood. Physical activity reorganizes the brain in such a way that it reduces its response to stress. A simple walk itself is enough to reduce your stress.
Have fun and enjoy the festive season. The best method to fight against stress is laughter. Laughter lightens your mood, stimulates your heart, lungs, and muscles, and also releases endorphins.