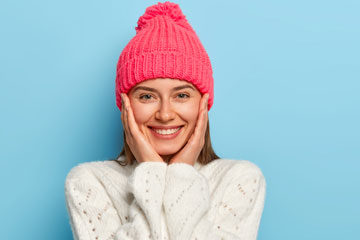 Winter is round the corner and is a rough season as far as your skin is concerned. Falling temperatures can impact the skin's moisture levels and deplete its natural defenses, resulting in dryness and itchiness. Low humidity is common in cold, blustery conditions stealing moisture from skin every second of every day.
As winter conditions are rather extreme for skin's tender protective barrier, caring for your skin requires a little extra time and effort.
Tips To Keep Your Skin Healthy and Glowing in Winter
Following these tips can help keep your skin healthy and glowing in winter:
Stay hydrated -Staying hydrated is important to maintain the skin's moisture. Establish a daily drinking water goal and keep track of your water intake. Eat fluid-filled fruit like tomatoes, avocado, raspberries, strawberries, blueberries and kiwis that are high in water content.
Keep the moisture locked in: The natural oils in the skin help protect it and keep it healthy. So take steps to lock them in. Avoid long baths and showers and also washing your body too frequently. Even if you do, use warm water not hot water. After bathing or showering pat your skin dry and moisturize it.
Use a quality moisturizer – Apply a lightweight moisturizer beneath a serum or face oil. A quality moisturizer can meet all your skin's hydration needs. Choose a non-petroleum moisturizer. Ingredients in petroleum-based products can actually do more harm than good by temporarily hydrating skin. Choose a moisturizer with nourishing, gentle plant-based ingredients.
Cleanser – Regardless of your skin type, deep cleansing is an important step in winter skin care, particularly if your skin is prone to blemishes. Cleansing unblocks clogged pores while promoting healing and restoration. The process thoroughly removes dust and dirt that has penetrated deep into the skin.
Scrub – Exfoliating is an integral part of a winter skincare routine. As we try to get as much moisture as possible into the skin, it is important to clear a path for those products to penetrate. Try to exfoliate your skin at least once a week to remove all the dead cells.
Use sunscreen – Sunscreen is an absolute necessity, even on cloudy days. Applying sun protection to the face, neck and hands is critical even in the winter. Sun damage can lead to premature skin aging, discoloration and skin cancer. Wear a quality sunscreen that protects your vulnerable skin from both UVA and UVB rays. Apply it whenever you step outside. You can also protect your skin from the sun in the winter by using accessories, such as gloves and sunglasses with UV protection.
Don't forget lip balm – Lip balm creates a protective barrier between your lips and the frigid winter temperature. It moisturizes your lips to make them hydrated, no matter how dry and cold the weather. Lip balm also promotes healing if your lips get chapped and seals any cracks in the skin as they won't be open to infection and irritation.
Use the right rejuvenating products: Dermatologists recommend using products or brands with a lower concentration of harsh ingredients. Best practice is to minimize the use of products containing anti-aging ingredients such as glycolic acid, salicylic acid, or retinol in winter (www.aad.org).
Following these skin care tips can help reduce the dryness, discomfort and irritation that can occur on the skin in winter and keep it healthy and glowing.