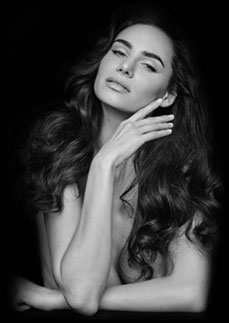 A well-defined chin and slim, smooth neck create symmetry to frame the face. Aging or weight gain can cause fat to accumulate in the neck and jaw area, ruining facial appearance with a double chin or turkey neck. Exercises can tone the face, but may not provide the desired results. Cosmetic surgery can address these concerns effectively. According to 2018 American Society for Dermatologic Surgery consumer survey, 73% of all Americans turn to cosmetic procedures to resolve excess fat under the chin/neck. Manhattan cosmetic surgery practices offer a variety of nonsurgical options for neck and chin contouring.
Traditional body contouring procedures come with considerable downtime and side effects, Fortunately, today, there are a variety of minimally invasive and noninvasive aesthetic modalities to address concerns such as double chin, a weak or saggy chin, a receding chin due to a congenital deficiency, or age-related bone reabsorption. Available in leading Manhattan-based plastic surgery practices, these procedures can reshape and improve chin contour and come with short downtime and quick recovery. They include:
EmbraceRF: Invented by Dr. Spero Theodorou, a NYC-based bodySCULPT® plastic surgeon, EmbraceRF is a breakthrough procedure that uses radiofrequency energy to get rid of unwanted fat in the lower face. It combines two powerful technologies from InMode – FaceTite and Morpheus8 – to effectively treat the subdermal adipose tissue of the face. The procedure treats skin laxity and excess fat accumulation in the face and neck area caused by factors such as aging, genetics, weight gain and loss, sun exposure and gravity – without surgery.
EmbraceRF is an ideal option for patients who are not ready for a facelift, with or without underlying fat concerns. What makes EmbraceRF special is that, unlike other treatments, it offers precise sculpting of the face and neck by allowing the physician to balance the amount of fat removed, molded, and retained.
Kybella: This is the latest nonsurgical cosmetic treatment for a double chin or submental fullness. The first and only FDA-approved double-chin injectable treatment, KYBELLA in Manhattan can provide a noticeable reduction in submental fullness and define the chin profile. KYBELLA contains synthetic deoxycholic acid, a naturally occurring molecule in the body that promotes the breakdown and absorption of dietary fat. When injected into the fat beneath the chin, KYBELLA destroys the fat cells, and once destroyed, these cells can no longer store or accumulate fat. Performed by skilled surgeons, KYBELLA double chin treatment offers patients the same advantages as surgery, but without the scarring and lengthy recovery time.
Chin liposuction: Traditional liposuction procedures involve surgical incisions and lengthy downtime. But now, with technological advancements, chin liposuction is performed in a minimally invasive way. Surplus fat deposits under the chin and along the sides of the neck are suctioned out using advanced lipo techniques. Leading plastic surgeons use modalities such as Smartlipo Triplex, BodyTite™, or VASERlipo to perform the procedure. Benefits of the treatment include minimal blood loss, and negligible surgical trauma and downtime. As it involves local anesthesia and small incisions, chin tuck in Manhattan, NYC is usually done as an outpatient procedure. In most cases, the treatment can be completed in just one session.
Neck Lift: If loose skin and lax neck muscles are more of a concern than excess fat, a neck lift can help. A neck lift involves a set of procedures and plastic surgeons determine which would be the right option for the patient based on the extent of laxity and correction required. These procedures include:

Liposuction – removes excess fat deposits
Botox injections – addresses the horizontal lines or bands on the neck

Combining a neck lift and facial rejuvenation procedures can bring about a dramatic and positive change in appearance.
All of these options come with evident benefits and the best way to know which would be right for you is to consult a skilled and well-trained plastic surgeon who has extensive experience in performing chin and neck contouring procedures. Choose a reliable AAAASF-accredited cosmetic surgery practice in Manhattan, NYC for safe, effective and customized treatment.