The demand for aesthetic surgery is rising. Cosmetic plastic surgery statistics for 2014 published by the American Society of Plastic Surgeons (ASPS) show that a total of 1,677,478 procedures were performed last year, rising 1% from 668,420 procedures in 2013. Trends differ, with the demand for some treatments surging, and others, not keeping pace.
High Demand
ASPS reports that the following cosmetic surgical procedures gained popularity during 2013- 2014: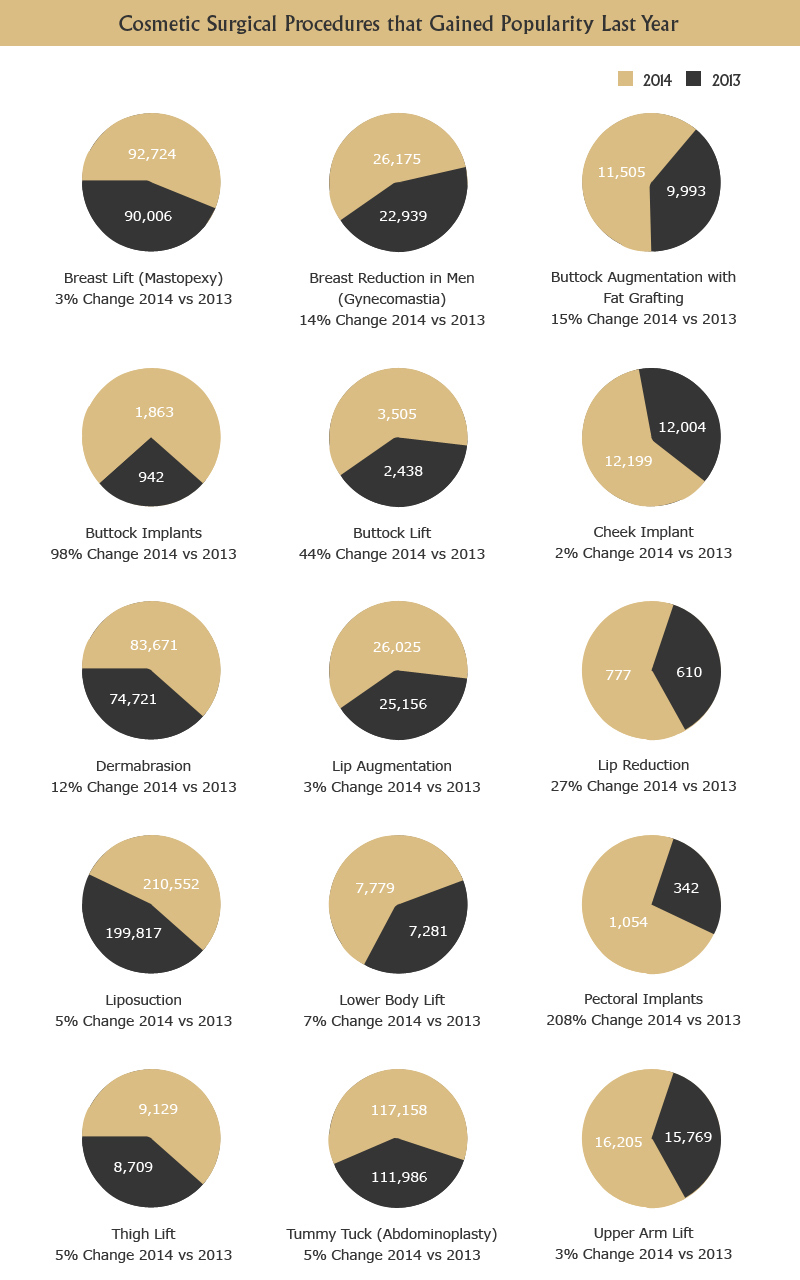 Highlights 2000-2014
Looking at the period 2000-2014, some trends are particularly noteworthy. The demand for the following procedures rose heavily:
Upper arm lift by 4694%
Lower body lift by 3658%
Buttock lifts by 158%
Breast lifts (mastopexy) by 75%
Gynecomastia treatment or male breast reduction surgery by 29%
Cheek implants by 17%
Dermabrasion by 98%
Thigh lift by 72%
Tummy tuck by 87%
Lip augmentation by 40%
Minimally invasive procedures have also gained. Up to 13,945,38 procedures were performed in 2014, a 4% increase from 3,447,93 procedures in 2013 and a whopping 154% increase from the year 2000.
Contributory Factors
Experts attribute these positive cosmetic surgical trends to various factors such as the availability of a wider array of options due to medical advancements and technology improvements. Today, patients have the benefit of 3D technology which allows them to work closely with the plastic surgeon to determine the procedures that can help them achieve their optimal outcomes. Male cosmetic procedures are trending, with men realizing that plastic surgery offers them various options to restore a more youthful look, and improve their self-image and self confidence.