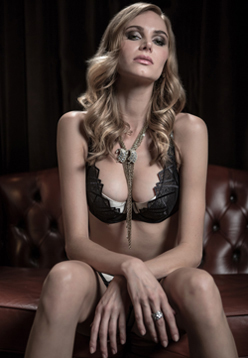 Submental fat, commonly known as a "double chin", is a major aesthetic problem seen in both men and women. This neck starts accumulating extra fat as you age, gain weight, or due to genetic factors. A double chin can make people look older than they really are. Neck liposuction is the traditional method to get rid of submental fat. Now plastic surgeons offer Kybella in NYC, an advanced procedure that can address this concern without any surgery or downtime.
Kybella is the first and only FDA-approved injectable drug to treat a double chin, improve the neck region and provide more definition to the natural jaw line. This breakthrough treatment is gaining popularity as it provides dramatic results without plastic surgery. When injected to neck region, the drug destroys the fat cells. It is made of a synthetic form of deoxycholic acid, which is naturally found in the body, and helps the body break down and absorb fat. Once destroyed, those cells cannot store or accumulate fat. Clinical studies showed that 79% patients treated with Kybella experienced improved satisfaction with their appearance of their face and area beneath their chin 12 weeks after treatment.
There are some important things to know about Kybella double chin treatment:
Swelling can occur: Even though the procedure is non-surgical, bruising and swelling are expected, but don't last long. Swelling is expected to last about 20 to 28 hours after the procedure, and will most likely go away after 48 hours. However, the time taken for swelling to subside actually depends on the dose you receive and your skin. For most patients, swelling and bruising resolve after a few days.
Fast treatment: Each in-office the treatment session is typically 15-20 minutes, with injections taking only 5 minutes. Patients don't have to sit in the office for hours, unlike other fat reduction procedures. They can have treatment and be back at work same day, if they desire. This treatment can be thought of as a "lunchtime neck lift".
Use of local anesthesia: To make your more comfortable and to alleviate discomfort, ice / cold packs or topical and/or injectable local anesthesia is applied at the treatment site prior the injection.
Have realistic expectations: Patients should have realistic expectations about the results of any cosmetic procedure. With Kybella, results improve overtime. Usually, results are visible after several weeks and moreover, one treatment may not be enough to provide noticeable changes, especially for patients with more neck fat. With 2 to 4 treatments, patients can experience visible contouring of their chin profile. Up to 6 treatments may be needed for optimal results.
Ideal candidate: Not everyone is an ideal candidate for Kybella injections. A good candidate is person with excess neck fat under the chin and who wants to avoid surgical liposuction. They should also realize that the treatment would require more time commitment before seeing results, unlike the faster change with surgery. Patients who have submental fullness from causes other than fat, such as a small chin bone or loose neck skin, may not be candidates. In addition, patients who have an infection in the area or are pregnant or lactating are not candidates for this treatment.
If you are considering Kybella in NYC, choose an AAAASF-accredited plastic surgery center that has skilled and experienced plastic surgeons who are trained in administering Kybella injections and provide safe and effective treatment. A reliable surgeon will provide customized treatment to help patient achieve their goal of an improved chin profile by administering the injections correctly.