Big expressive eyes can certainly be an asset when you are in the media business. At least this is what Julie Chen's personal experience proved. Chen made headlines last September when she revealed that she had eyelid surgery at the age of 25 to boost her career.
While she was working as a local news reporter, Chen found that her "Asian eyes" stood in the way of her job prospects. After facing many rejections – one comment was that her eyes made her look disinterested and bored – the 43-year-old Chinese-American woman finally decided have plastic surgery to make her eyes look bigger and "less Chinese".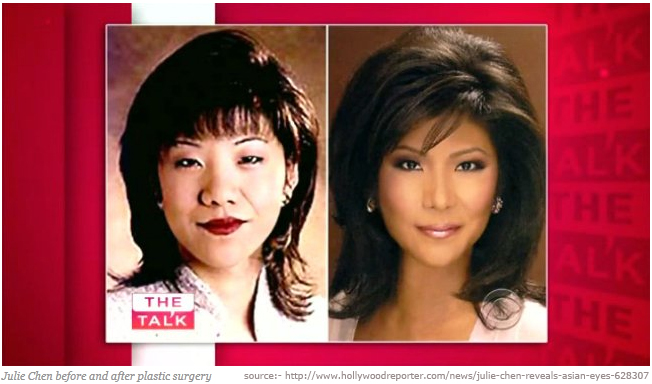 After the surgery, Chen admitted that the ball did roll for her career-wise and she said, "It got me to where we are today. And I'm not going to look back." Post surgery, she admitted that her eyes are now bigger and look more alert and expressive. The blepharoplasty procedure she had done almost two decades ago could be a source of inspiration for women who wish to Americanize their eyes.
More and more men and women are opting to have eyelid surgery to resolve aesthetic issues
Tired and puffy eyes
Bags under the eyes
Loose and sagging skin in the upper eyelid
Wrinkled or drooping eyelids
One thing to be highlighted is that she took trouble in finding the right surgeon to perform the treatment which helped her to experience a successful surgery. So it would be crucial for you to choose a skilled cosmetic surgeon with good experience in the treatment if you have the desire to improve your eyelid appearance.