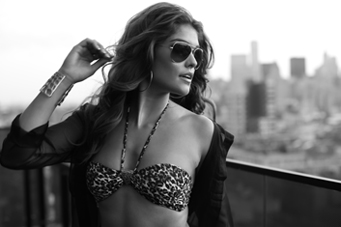 VASER high definition liposuction is body contouring technique that removes both superficial and deep fat that surrounds muscle groups to enhance the visibility of the underlying toning and musculature. VASER hi def liposuction in NYC can help men achieve a muscular and defined physique and women achieve a slender, athletic-looking body. People who are in good health, close to their ideal bodyweight, and have good muscle tone can opt for this advanced procedure.
VASER hi def liposuction uses minimally invasive ultrasound technology to break down the fat cells. After numbing the treatment area with a special saline solution, the surgeon will insert the device's small probe emitting high frequency sound waves into the fatty tissues through small incision. The vibrations from the probe cause fat cells to shake apart and mix with the saline solution. The liquefied fat is then removed from the body using a special cannula.
VASER lipo is ideal for treating all areas of the body, including delicate areas like thighs, love handles, arms, male chest, breasts, neck, knees, calves, alongside the stomach. One key benefit of the treatment is that while it removes fat effectively, it does not affect the other tissues.
Recovery
Your surgeon may advise wearing special compression garments to help improve your body contouring results. The procedure usually involves a minimum of 12 hours downtime. You may be advised to take 2-3 weeks of rest. You should avoid exercising till your body heals properly. All kind of strenuous activities must be avoided during the healing phase.
Result
The final result will be seen after 6 months. Results are permanent. The fat cells that are removed from the areas can never return and the overlying skin tightens up, creating a shrink-wrap effect on the overlying area.
Make sure to choose a surgeon who has plenty of experience in performing the procedure and know exactly how the superficial anatomy influences external appearance with artistic skills. Reliable surgeons will have absolute precise surgical skills and artistic vision and also pay attention to critical details, which are crucial for superior results. Undergoing treatment in an AAAASF accredited facility is important for safe, standardized treatment and dedicated follow-up till full recovery.