Optimas by InMode
Inmode's Optimas is an innovative, complete beauty suite that provides safe and effective body contouring solutions for men and women who want to improve their appearance. We provide aesthetic procedures using Optimas at bodySCULPT®, our Manhattan-based plastic surgery practice. We are AAAASF-accredited, and stay up-to-date with the latest aesthetic procedures and techniques. Optimas has a great suite of innovations in one workstation with state-of-the-art light, laser, and radiofrequency devices for skin care and hair removal.
An Innovative Breakthrough in Aesthetic Procedures
Optimas provides the most in-demand procedures for patients combining state-of-the-art laser, light and radiofrequency capabilities with clear results and no downtime. The key features of Optimas are:
All-in-one platform
Equipped with laser, radiofrequency, and intense pulsed light capabilities for skin remodeling, hair removal, and treatment for skin discoloration.
Advanced cooling technology for painless treatments
Outstanding, long-lasting results
FDA-cleared and scientifically proven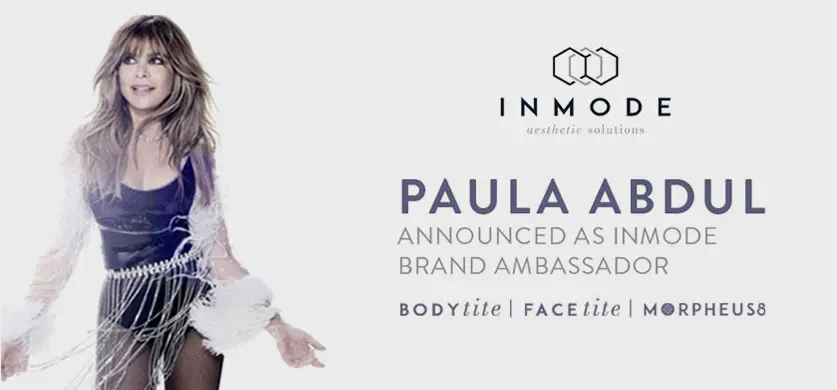 International Pop Icon, Paula Abdul has agreed to act as brand ambassador for InMode, the medical device company that has invented innovative technology for minimally invasive aesthetic treatments. Inmode's solutions are clinically-proven to reduce treatment time, recovery time and deliver real results. Paula is bringing her renewed feeling of confidence and self-assurance to others who want the same benefits. Dr Spero Theodorou who is also InMode's Chief Medical Officer says, "Paula is an excellent candidate for InMode's innovative technology using Radio-Frequency (RF) to provide a natural tighter appearance.
Broad Suite of Advanced Aesthetic Technologies
This InMode platform features several handpieces, each designed to provide the exact solution for specific aesthetic issues.
FRACTORA: This technology is the ultimate in non-invasive skin rejuvenation. It is an advanced fractional radiofrequency skin resurfacing and subdermal tissue coagulation device that helps in reducing deep wrinkles, improving skin tone and texture, and visibly enhancing the skin's appearance. Fractora is also safe for resurfacing on the neck, chest and all other areas of the face, including ethnic skin. It can be used on active cystic acne and acne scars. Treatment can be done within one session or multiple sessions depending on the preference of the patient. Compared to other fractionated technologies, Fractora offers much gentler recovery.
FORMA: This treatment is the first auto-adjusting, non-invasive thermal skin treatment for deep and uniform tissue stimulation. It stimulates the formation of new collagen and improves the skin's elasticity for long-lasting and remarkable results. Forma uses radiofrequency power to provide a comfortable thermal experience with immediate and subsequent contraction. There is no downtime in this effective "lunch-time" procedure that will make you look years younger.
DIOLAZEXL: This is an ultra-fast Gold Standard diode laser hair removal device featuring simultaneous 3PC (pre- parallel and post- cooling) technology. Diolaze removes unwanted hair painlessly. It is safe and efficacious on all skin types. Being the world's first ultimate triple contact cooling 3PC at 2°C, the treatment offers ultimate safety and patient comfort.
LUMECCA: Being one of the industry's strongest intense pulsed light (IPL) treatments, this is a breakthrough treatment that harnesses the full power of an IPL photofacial in 1-2 sessions. The procedure improves the appearance of aging skin and corrects pigmentation irregularities to rejuvenate the skin, improve skin tone and reduce cellulite. Lumecca is optimized for clinicians to treat a variety of skin types and conditions with just a single session.
VASCULAZE: This treatment can help alleviate a wide variety of facial and leg vein issues using a laser that specifically targets the blood vessel causing it to blemish. It is optimized to pinpoint the vein/vein network so that the treatments are safe and precise.
MORPHEUS8: The first full body fractionated technology, Morpheus8 provides radiofrequency heat to mold the underlying fat and morph the aging facial features into a more youthful appearance. Morpheus8 is a new subdermal adipose remodeling device (SARD) that fractionally remodels and contours the face and body. Penetrating deep into the skin and fat, this morphs the aging face and body into a more desired smooth and sleek appearance for all skin tones, that includes ethnic skin with little to no risk of PIH (post-inflammatory hyperpigmentation or dark spots).
With InMode's Optimas, you can achieve your skin rejuvenation goals easily and effectively, with optimal results and shorter treatment times. Our plastic surgeons can also combine two or more of these non-invasive treatments to provide the desired outcome.
Why Choose bodySCULPT®?
Our plastic surgeons and support staff go all out to ensure that every patient enjoys a pleasant, memorable surgical experience. Right from your initial consultation through treatment to complete recovery, they focus on your comfort and safety. The other benefits of choosing Optimas at bodySCULPT® are:
Versatile applications to meet a wide variety of needs
Outpatient procedures with fast, short duration treatments
Safe and effective techniques
Personalized treatment plan
Superior follow-up and outcomes
Little or no downtime and quicker recovery
Virtual consultation facility
Contact Us
To learn more about our procedures with the all-in-one Optimas platform, please call 1-800-282-7285 or send an email to info@bodysculpt.com.