Winter has arrived, ushering in the holiday season but also bringing along a whole new set of problems to deal with. A major setback in winter is that cold weather can damage your hair as badly as it affects your skin. The falling temperature can wreak havoc on your hair and lead to split ends and breakage.
The scalp is prone to dehydration in winter and makes hair brittle, dull, rough and unmanageable. Following a proper winter hair care routine can help prevent problems. Here are 12 winter hair care tips that can protect your tresses and also keep them healthy all year long.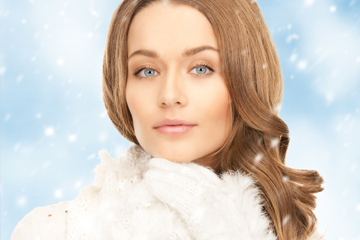 Moisturize: The cold weather can strip your hair of all the moisture, making it dry and dull, and as a result, hard to style. The solution is to moisturize your scalp with a nourishing oil. Massage your scalp with olive oil and leave it in for 20-30 minutes. Rinse it out with shampoo and conditioner. Slow massaging helps the oil to penetrate deep into the hair roots. This will help to keep your scalp moisturized and improve blood circulation, ensure that your follicles get enough nourishment, and also prevent hair fall. Use a hair and scalp moisturizer once or twice a week with a thick, rich and moisturizing conditioner.
Control frizz: Hoodies and caps can lead to frizzy, static hair. To deal with this, experts recommend combing hair with a vented hair brush that has a combination of plastic and boar bristles. To keep your hair smooth, apply a leave-in conditioner.
Use natural restorative masks: Homemade hair masks can be made from nutritious products such as banana, avocado and yogurt can keep your hair smooth and shiny.
Deep conditioning: Conditioning, especially deep conditioning, is a vital part of the winter hair care routine. To keep your tresses healthy, use hair oils and deep conditioning packs at least once a week.
Prevent hair fall: You might suffer from hair fall in winter because of dryness, which can be avoided if you follow a proper diet, take vitamins and stay hydrated.
Cover up: Don't let the winter wind ruin your hair. Cover up with a beanie, cap, hat or head wrap. Using a woolen or silk wrap will help avoid hair breakage. Make sure that it's not so tight that it will restrict the circulation in your scalp.
Use dry shampoo: You hair might feel dry and lifeless in winter. Add volume and bounce to your tresses with dry shampoo.
Avoid over-styling: Try and steer away from over styling your hair in winter as the heat generated from electronic tools could cause more dryness and frizz.
Be attentive to indoor temperature: The combination of winter's chill and dry central heating can be extremely dehydrating. Keep indoor temperature moderate, as high temperatures can cause dry, dull or brittle hair. As a HuffPost article points out, extreme temperatures, both cold and hot, can rob your strands of moisture, causing hair to become dehydrated and leading to frizz, dullness and ultimately, breakage.
Avoid hot showers: Hot showers can dry out hair and make it porous, and also damage the scalp. Wash your hair only with lukewarm water and only occasion all to prevent it from becoming too dry.
Don't go outdoors with damp hair: Avoid going outdoors with damp, wet hair. Anything that's cold expands and the same happens with your wet hair in cold weather, increasing risk of breakage and making your color fade faster. The best solution is to wash your hair at night before going bed so that it's dry by morning. If you use a blow dryer, dry the under most layers first.
Pay attention to your diet: To keep your hair and scalp looking and feeling healthy, eat healthy. Eat natural foods rich in oils, minerals and vitamins. Maintaining a healthy diet will help your hair healthier and also improve your general well-being in winter. Make sure your diet includes plenty of Vitamin C, A, E, as well as iron and selenium, which can be found in a variety of fresh fruit and vegetables, meat, fish, nuts and cereals. This will boost your immune system and help fix winter hair damage that may occur.