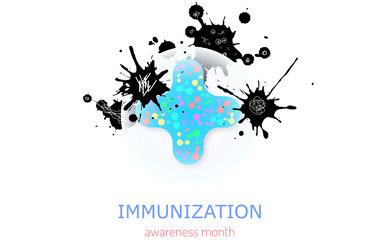 Getting immunized is very important children, adults, and the elderly. Sponsored by National Public Health Information Coalition (NPHIC), National Immunization Awareness Month (NIAM) is observed in August annually across the USA. This annual observance highlights the importance of protecting patients of all ages against vaccine-preventable diseases through on-time vaccination. The month also celebrates the successes of the different immunizations that have been created in the 20th century and beyond.
Immunization is considered one of the greatest public health achievements of the 20th century, and experts agree that immunization is key to staying healthy. In one year, vaccines prevent more than 8,500 child hospitalizations in Colorado, 33,000 deaths in the U.S., and between 2 and 3 million deaths worldwide (http://www.immunizeforgood.com).
Every year, the NPHIC, in collaboration with Centers for Disease Control and Prevention (CDC)'s National Center for Immunization and Respiratory Diseases, develops a communication toolkit for both communicating with healthcare professionals and for communicating with parents and patients. These toolkits encourages people to become involved, raise awareness and most important of all, to stay up to date on vaccinations and get immunized. The 4 key messages of the toolkits are:
Vaccines has power to protect against serious and deadly preventable diseases
Vaccine-preventable diseases still exist and outbreaks do occur
Get your vaccine on time as it is the best way to protect against serious diseases
Vaccines are safe and effective at preventing serious diseases
There are many debates around the safety of many of the vaccinations available. Governments and organizations across the world, such as the American Academy of Pediatrics, the American Academy of Family Physicians, and the Centers for Disease Control and Prevention, strongly support protecting children, adults, and elderly with recommended vaccinations. Acting upon the advice of leading scientists and medical professionals, they overwhelmingly support immunization schemes.
On-time vaccination throughout childhood is essential because it helps provide immunity before children are exposed to potentially life-threatening diseases. These vaccines are tested to ensure that they are safe and effective for children to receive at the recommended ages. Childhood immunizations in US begin when a child born and its continued until the child is 4 to 6 years old. After that, an annual vaccination from 7 to 18 years old is recommended. Additional immunizations are recommended for adults, seniors and those deemed high risk.
Some diseases such as polio and diphtheria are becoming very rare in the U.S. However, it is very important to keep immunizing, unless the diseases are eliminated. Even if there are only a few cases of disease today, not vaccinating can result in more and more people becoming infected and spreading disease to others. Stopping vaccinations can actually make diseases that are almost unknown to stage a comeback. So, vaccinate on time.
The key benefits of immunization are:
Saves lives
Protects the people you care about
Cost effective and safe
Protects future generations
The risks of natural infection outweigh the risks of immunization for every recommended vaccine, according to www.immunizeforgood.com.
The American Academy of Pediatrics (AAP) offers various tools and resources on the importance and power of immunizations. You can use these tools to share messages about immunizations on your social networks using hash tag #Ivax2Protect.