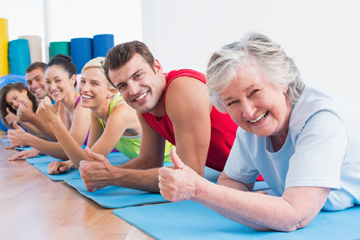 Exercise is a strenuous activity that is tiring, makes you breathe hard, and drip with sweat. This makes people resist working out. But exercise helps keep you physically and mentally healthy. With modern day sedentary jobs and lifestyles, lack of proper exercise can lead to several health issues. You need to exercise regularly to stay fit. According to recent research, regular exercise can reduce the chances of seven types of cancer.
Regular exercise offers many health benefits:
Controls weight: Exercising helps control weight and prevent obesity. To maintain your weight, the calories you eat and drink must equal the energy you burn. To lose weight, you must use more calories than you eat and drink.
Minimizes risk of heart disease: Exercise strengthens the heart and improves blood circulation. Increased blood circulation raises oxygen levels in your body. This lowers the risk of diseases like cholesterol, coronary artery disease, and heart attack.
Controls BP and lowers risk of diabetes: Exercise can improve blood circulation and thus lower your blood sugar level and help your insulin work better. This can cut down your risk for metabolic syndrome and type 2 diabetes. And if you already have one of those diseases, exercise can help you to manage it.
Strengthens the bones and muscles: Regular exercise can help build strong bones, especially in children and teenagers. Muscle-strengthening activities can help you increase or maintain your muscle mass and strength.
Increases the chances of living longer: Various studies have shown that physical activity can reduce the risk of dying early from the leading causes of death, like heart disease and some cancers.
Improves sleep: Exercise can help you to fall asleep faster and have quality sleep for longer period.
In addition to all these benefits, researchers have found that physical activity lowers risk of many types of cancer.
The study, which was published in the Journal of Clinical Oncology in December 2019, looked at whether meeting the recommended physical activity guidelines had an effect on cancer risk. Adults were encouraged to engage in moderate intensity activities such as brisk walking or gardening for 2.5 hours to 5 hours. Alternatively, 2.5 hours of intense activity like jogging, swimming, jumping ropes etc were recommended. Alpa Patel, senior scientific director of epidemiology research at the American Cancer Society, said in a statement said that these guidelines have largely been based on their impact on chronic diseases like cardiovascular disease and diabetes (www.today.com).
The study by researchers at the American Cancer Society, National Cancer Institute, and Harvard T.H. Chan School of Public Health, collected data from nine studies, including more than 755,000 adults. The participants who engaged in and reported leisure time physical activity, were monitored for a decade to see if they developed any 15 different types of cancer. Among both men and women, the risk of kidney cancer was reduced by up to 17 percent, liver cancer by up to 27 percent and myeloma by up to 19 percent. Among men, better exercise reduced risk for colon cancer up to 14 percent. Among women, more physical activity was associated with up to a 10 percent lower risk for breast cancer and up to an 18 percent lower risk of both endometrial cancer non-Hodgkin lymphoma.
A study from the National Cancer Institute in 2016, found that people who exercised the most also had lower odds of developing cancers of the bladder, esophagus, lung, rectum and stomach.
Working out offers many health benefits. If you cannot manage a structured exercise program, look at your daily routine and find ways to be more physically active. Regular moderate intensity workouts for at least 30 minutes a day can minimize the risk of cancer and many other health conditions.