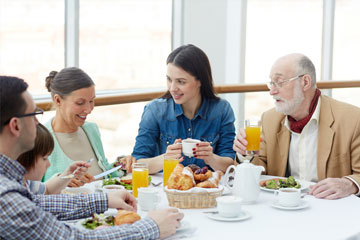 Thanksgiving is a hectic, often stressful, and yet delightful time of year. It is the time for family, delicious food, and appreciation for all the beautiful things in your life. Additionally, the season can lead to overindulging in unhealthy foods and skipping workouts and daily beauty and skin care routine. All that rich food can wreak havoc on your skin. A good skin care regimen should be followed every day, especially if you have sensitive skin. Following are some of the tips to keep your skin healthy and glowing during and after the Thanksgiving holidays:
The first step to preventing post-holiday breakouts is to understand how various meals may influence your skin. Making ensuring you have a good skincare routine in place is the second step. Even if you lack the self-control for a seven-step regimen, cleansing and moisturizing twice every day will help maintain keep skin radiant through Thanksgiving. Here are a few basic skincare suggestions:
Cleanse two times every day. To get rid of surface oil and other pollutants, it's crucial to wash your face in the morning and before bed. Have cotton rounds and a bottle of cleanser on available for a quick and simple cleaning.
Use a polishing mask to exfoliate and brighten: Any time you want to make a good impression, whether it's at a Thanksgiving meal or other event, use an exfoliating face mask for immediate skin revitalization. Using a fruit mask can give your skin a noticeable transformation by exfoliating, brightening, and hydrating your skin all at once. Each application will provide a rich dose of skin-resurfacing fruit enzymes, moisturizing hyaluronic acid, and brightening vitamin C for optimal radiance in addition to effectively removing dead skin cells.
Apply Skin Protecting Toner sparingly: After you've cleansed and exfoliated, it's time for a toner. Many experts advise using a pH-perfecting toner during this time of year because your skin barrier is more vulnerable. The toner also serves as a pH balancer, pore refiner, moisturizing serum, and skin-soothing agent. It contains a potent combination of amino acids that revive the complexion, lactic acid that boosts luminosity, and a variety of brightening plant actives.
Stay hydrated. For optimal health, both your body and your skin need to be properly hydrated, particularly with stressors like holiday planning. To calm and restore dry skin, drink lots of water and apply moisturizing moisturizer liberally.
Be proactive in preventing acne: Although breakouts appear to occur immediately, they frequently take several days to grow beneath the skin. Exfoliating twice weekly can help minimize breakouts, but if a blemish does appear, treat it right away with a spot treatment.
Add a serum to your skincare routine: Treat your skin while you're indulging yourself at Thanksgiving. For healthy, glowing skin, incorporate an anti-aging serum or a moisturizing serum into your regular skincare routine.
Complete your beauty regime with a Facial Oil: Using a facial oil is the last step. A good facial oil uses fermentation technology to its full advantage to provide the ideal, radiance-inducing glow. The fermented active ingredients offer a higher concentration of nutritious fatty acids. Additionally, it penetrates the skin much more deeply, giving it a gorgeously healthy glow and a silky smooth texture.
Food You Should Eat For Glowing Skin During Thanksgiving
No matter how delicious your Thanksgiving meal may be, it's crucial to know how certain foods can affect your body and your skin. Remember that sugars, which are what carbohydrates are, can cause inflammation and hasten aging when consumed in excess. While salt dehydrates your skin, fatty toppings like gravy and butter can increase androgen production and lead to breakouts.
Eggs: Deviled eggs are a holiday party favorite and make a delicious appetizer to quell your stomach's growling when the house fills with the aroma of roast turkey. Eggs are a rich source of lutein, a carotenoid that supports suppleness and helps the skin rebuild itself.
Green beans: Green beans are a fantastic source of vitamin C and antioxidants in addition to being low in calories and high in fiber. To keep all of their flavor and nutrition, lightly steam them.
Cranberries: These tiny red berries are a great source of anti-inflammatory antioxidants. They are also a great source of fiber and vitamin C. Remember that fresh cranberries are the best.
Sweet potatoes: Sweet potato is rich in vitamin A and supports the skin cell regeneration process. When roasting the turkey for the final hour of cooking, use a fresh sweet potato in the oven instead of a sugar-loaded potato casserole.
Turkey – Turkey, especially breast meat, is a low-carb, high-protein food that is good for both your body and your skin. It is also a great source of zinc and riboflavin.
Pumpkin – Pumpkin is a great source of skin-benefiting beta-carotene and vitamin A, and has a plethora of natural digestive enzymes that aid in digestion. These nutrients help to prevent free radical damage and to maintain the youthful appearance of your skin.
Whether it is the Christmas season or not, skincare is only one aspect of a healthy lifestyle. Take the time to invest in your mental and physical health with a balanced diet, regular exercise, and plenty of sleep to ensure that you look and feel your best this holiday season.